The National Indigenous Climate Compass (NICC), an online data analysis tool, is the winning project of a 1-million-dollar grant from the TD Ready Challenge that will help Indigenous communities adapt to and mitigate climate change risks. The tool will be developed at the University of Ottawa collaboratively with the Faculty of Engineering's Centre for Indigenous Community Infrastructure (CICI), Indigenous Tech.ai, and Indigenous communities.
Indigenous communities across the country are some of the most vulnerable to the effects of climate change.
Relentless rains drive record floods and mud slides in B.C.'s Okanagan Valley, home to the Osoyoos Indian Band. 
Thawing permafrost ruins meat caches and blocks access to traditional Inuit camping and hunting sites in Nunavut's high Arctic, jeopardizing food security.
Invasive zebra and quagga mussels in the Great Lakes, drawn by warming water, decimate the plankton that feeds freshwater fish and destroy the local fishery, a traditional food source for the Indigenous communities.
These are only a few examples of the impact climate change is having on Indigenous communities across Canada. "Most municipalities in Canada are well into the planning of how to cope with climate change. Indigenous communities will be among the hardest hit, but don't have the access to the data and solutions they need to properly prepare," shares Joseph Wabegijig, coordinator of the Centre for Indigenous Community Infrastructure (CICI) and spokesperson for the National Indigenous Climate Compass project.
Colonialism and systemic racism have already resulted, for many, in isolation and deprivation. Water, road, airport, housing, and energy infrastructures in these communities are already under-resourced. Meeting the demand of climate change needs and adapting infrastructure to new realities cannot be done without meaningful partnerships and collaboration.
A tool created by Indigenous communities for Indigenous communities
"The National Indigenous Climate Compass is a much-needed tool," says Wabegijig. "It is created by Indigenous communities for Indigenous communities to improve their infrastructure, safeguard clean water, build sturdier homes and gathering places, shift to renewable energy sources, and increase access to their communities."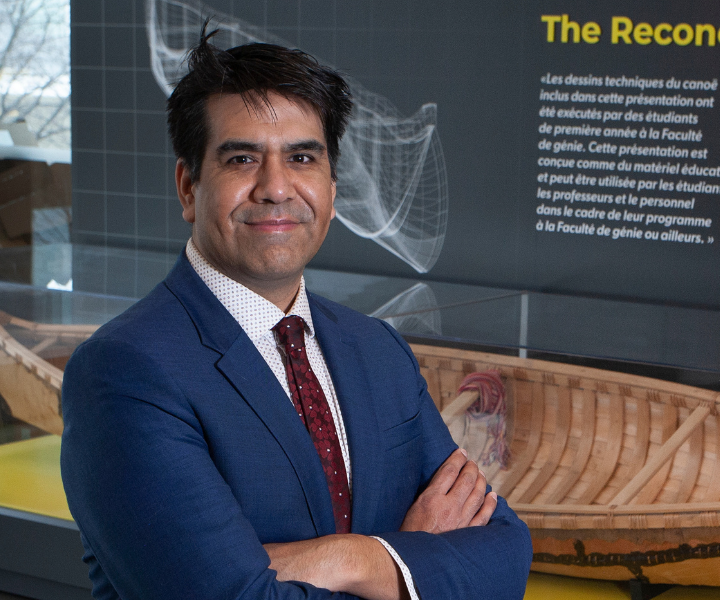 Research + Climate Change
"It will support communities across Canada so they can adapt and thrive in the age of climate change."
Joseph Wabegijig
— Coordinator of the Centre for Indigenous Community Infrastructure
The NICC will help Indigenous communities map and track climate change risks that are specific to their region, as well as chart their strengths and potential opportunities. The goal of the compass is to use the collected data to drive community development projects. How the data is actionized will be determined by First Nations', Inuit and Metis partners.
"This partnership with TD offers uOttawa researchers the opportunity to work with Indigenous communities using modern and traditional knowledge sharing in ways that will help communities mitigate and adapt to climate change," says Jacline Nyman, Vice President, External Relations at the University of Ottawa. "The University continues its commitment to reconciliation and the greater Indigenization of our campus."
CICI has partnered with Indigenous Tech.ai, an Indigenous-owned software and data analysis firm to develop the NICC, in addition to working closely with communities such as the Osoyoos Indian Band in British Columbia and partners across the country. The TD grant will be used to scale up the tool, making it accessible nationwide and connecting regional supports.
Centre staff will build a NICC prototype, based on analyses of existing national and international databases, as well as community input, and return to communities to download specific profiles and teach community members to use the compass.
This project – and this grant – provide a unique opportunity to assist these under-resourced communities and have a lasting impact. "It will support communities across Canada so they can adapt and thrive in the age of climate change," says Wabegijig.
In recent years, the University of Ottawa has undertaken a series of initiatives that have led to a greater Indigenization of campus and an increase in important research that can bring positive change in Indigenous communities. This includes the hiring of Indigenous professors, the creation of an Indigenous law certificate program Indigenous health research and the appointment of its first Indigenous chancellor.
About the Centre for Indigenous Community Infrastructure
The Centre for Indigenous Community Infrastructure is collaborative research hub that supports leading-edge research, respectful long-term stakeholders' engagement, knowledge exchange, and youth education to achieve sustainable and culturally acceptable infrastructure in Indigenous communities. Many of CICI's areas of research directly address issues surrounding water quality, adapting infrastructure for climate change, renewable energy, housing, and rural infrastructure. CICI brings to the table researchers and partners of diverse backgrounds and creates connection within the government and public sector to address public policy and sustainable infrastructure research
About the TD Ready Challenge
The TD Ready Challenge offers ten grants ranging from $350,000 to $1 million to North American organizations who are striving to make a difference through innovative, impactful and measurable solutions. This year, the competition seeks to address solutions for hard hit communities impacted by climate change and infrastructure that can help mitigate the effects. The competition was held on December 15, 2022, in New York City.