The fall has been a season of memories, reminiscences, and reunions at the Common Law Section.
In mid-September, the class of 1971 held its belated 50th reunion, a year behind schedule due to the pandemic. Twenty-five of the graduates attended and since they graduated before Fauteux Hall was opened in 1973, they enjoyed a visit to the "new law school" and were greeted by Dean Kristen Boon.
"During the weekend we spent together, we enjoyed renewing friendships, sharing memories and laughing about past foibles and follies," said Allan Rock, one of the organizers and uOttawa's president emeritus.
"The centrepiece of the weekend, however, was the opportunity we had to catch up with old friends and to learn more about each other's careers in law. The most striking feature in those careers was the extent to which the Class of '71 "gave back". Every single graduate found one way or another during their years in practice to contribute --to the strength of their communities, to the welfare of others, or to help those in special need.
"So, we are proud of the Class of 71's record of service, and grateful to the Faculty of Law at uOttawa -- for preparing us so well and for launching us on our exciting journeys a half century ago."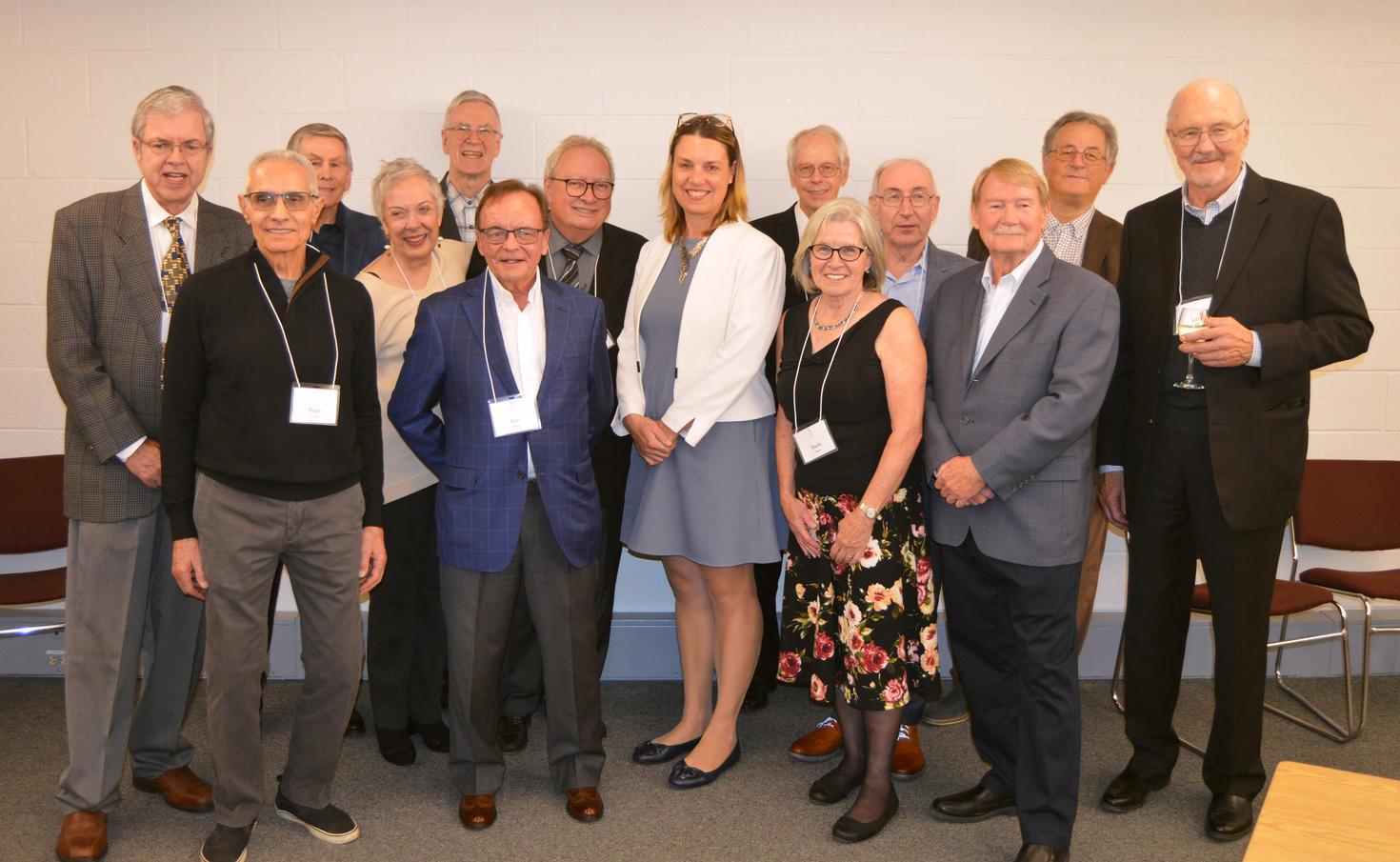 On October 1, the class of 1972 marked the 50th anniversary of its graduation with a reception.
The class was welcomed by Kristen Boon, the Susan & Perry Dellelce Dean, to the Human Rights Research and Education Centre (HRREC), located on the 5th floor in Fauteux Hall (FTX).
While at FTX, the class was pleased to have a brief tour of the building, including a look at the Feeney Era Room, named after the Dean of the Common Law Section from 1962-1973, Dean Feeney.
Over the last 50 years this cohort has stayed in contact with one another and has reunited at least seven times, thanks to the organizing efforts of life President, Justice Jean-Gilles "Fritz" Lebel. Justice Lebel was very pleased by this year's turnout. Summing up the day he said, "We visited the law school, attended a reception hosted by Dean Boon, drank, ate and cheered one another just like we did back in the day."
Looking back on his time at law school, and the 50 years that have elapsed since, Justice Lebel recounts "the friendships we forged during those 3 years on the 4th floor of the Arts building under the deanship of Tom Feeney are everlasting."
"Every reunion that brought us together solidified our friendships and love for each other."
Sheila Block, LLB '72 and a guest at the event said that "coming together at this anniversary gave us a wonderful opportunity to reconnect with each other and, in a way, with the young people we were back in 1972.  Many funny stories kept popping from back then and we learned about the interesting and fulfilling personal and professional lives we each pursued since that time.
"We'd known each other in our twenties and now, five decades later, it was a delight to see our old friends and remember a very intense and special time in our lives."
Also on October 1, as part of the uOttawa's Homecoming celebrations, the Common Law Section welcomed back alumni and friends for the 2022 Common Law Homecoming Gala. This year's post-pandemic gala was a special reunion for many alumni, as it finally gave us a chance to celebrate not only those who had milestone anniversaries in 2022, but also all those who missed their celebrations in 2020 and 2021. The attendees included a few graduates from 1960, which was the first-ever class to graduate from the Common Law Section, and spanned all the way to graduates from 2022 and even included a few current students.
During her remarks, Dean Boon shared some of her priorities and plans for the future of the law school. Among her top priorities, Dean Boon listed an update to the Faculty's infrastructure, including a state-of-the art, technology-enabled landscape for learning. She then introduced a new initiative which will assist with this objective: The Dean's Alumni Advisory Committee on Technology (DAACT).
The Gala also provided a wonderful opportunity to recognize the 2019 Common Law Honour Society Inductees: Godyne Sibay LLB '83, Katherine Cooligan, LLB '89 and Marc Jolicoeur, LLB '78. The pandemic had made it impossible to properly celebrate these inductees until now, so it was wonderful to finally reinstate this proud tradition. The Common Law Section was saddened, earlier this year, when we learned of the passing of Marc Jolicoeur. It is so regrettable that we never had the opportunity to officially recognize him in person. His wife and sons were in attendance, as were a number of Marc's dearest friends, including Pat Santini LLB '78 who accepted the recognition on his behalf.