Every winter, students enrolled in the course Feminist Law Reform (CML 4917B) learn from expert feminist lawyers, engage with members of parliament, draft briefs and opinion editorials and explore other key avenues of feminist law reform advocacy.
The bilingual course delves into the struggle for women's equality in Canada and provides students with the means to develop the knowledge and skills necessary to correct systemic legislative errors at the federal level. 
Sarah-Claude L'Ecuyer, a 3rd year student who has just completed this course, says that it is unlike any other class offered at the Faculty of Law. "Its unique focus on feminism and law reform is a refreshing and much needed change from the other courses we take as law students. We leave this class enriched from the discussions we've had with incredible feminist advocates and with the tools to participate in feminist law reform even as students and young lawyers. I recommend it to everyone interested in feminism!" 
"We leave this class enriched from the discussions we've had with incredible feminist advocates and with the tools to participate in feminist law reform even as students and young lawyers."
Sarah-Claude L'Ecuyer
— 3L student
At the heart of this course is Professor Martha Jackman, a leading feminist legal scholar who has dedicated her career to advancing the rights of women and other marginalized groups. With her vast expertise and engaging teaching style, she leads students through a variety of topics related to feminist law reform, including federal reform, gun control, advocacy and lobbying. 
But Professor Jackman doesn't stop there. As part of the course, she invites distinguished guest lecturers to share their perspectives on the challenges and opportunities for feminist law reform. This past winter, students had the privilege of hearing from Senator Kim Pate, a tireless advocate for prisoners' rights; Mary Anne Carter (LLM '13), a Faculty of law alum and Principal at Earnscliffe Strategy Group ; Joanna Smith, the Ottawa Bureau Chief for the Canadian Press; and Catherine McKenney, a former city councillor who has worked to promote affordable housing and accessible transit. 
To ensure that students are fully engaged with the course material, Professor Jackman also incorporates field trips to relevant legal institutions and organizations. These field trips give students a chance to see firsthand how feminist legal activism can be put into practice, as well as to meet and learn from legal practitioners who are leading the charge for feminist law reform. This year, among others, students visited the Senate Building to meet with Senator Yvonne Boyer, Greg Fergus Member of Parliament for Hull-Aylmer, and Parliamentary Secretary to the Prime Minister and Justice Minister David Lametti, as well as meeting Public Safety Minister Marco Mendicino while visiting the Justice and Human Rights Committee at the House of Commons.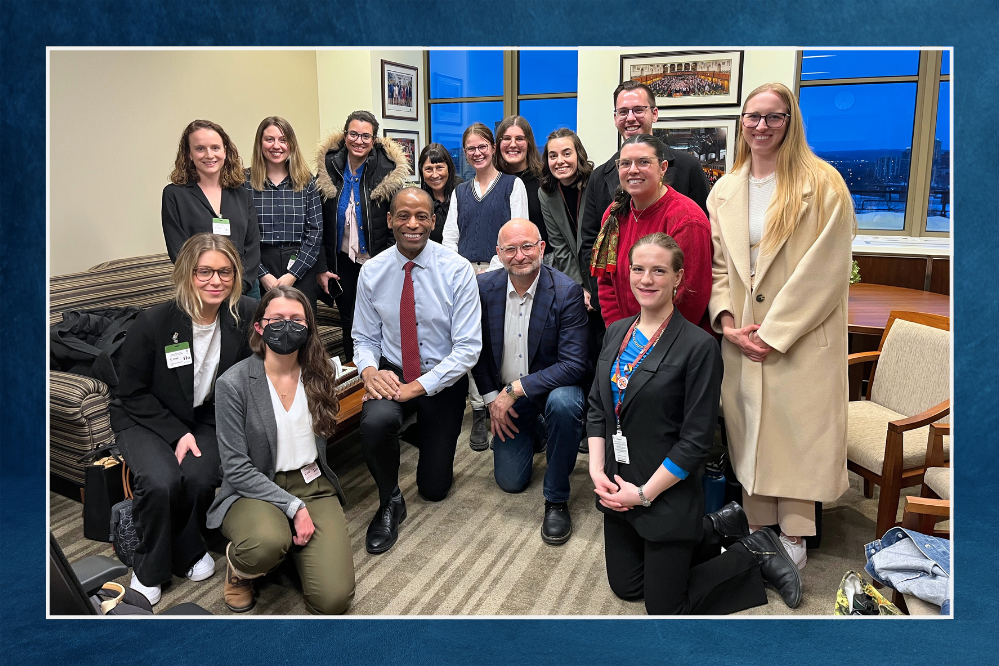 Another highlight of the course is the method of evaluation. Instead of traditional exams, students are assessed based on a series of writing assignments designed to put their learning into action.  These assignments provide students with hands-on experience in legal writing and advocacy, which is a valuable skill for anyone interested in pursuing a career in law or social justice. The assignments include writing a letter to the prime minister or an MP, which they must send to the intended recipient, as well as writing an op-ed that they must submit to a media outlet for publication. 
A number of these op-eds are published, a testament to the writing and advocacy skills developed throughout the course as well as the student's commitment to effect change and reform the law for the better. The following is a list of student papers that have been published.