Russia's invasion of Ukraine is the latest global disruption exposing how Canada is ill-prepared for the world's changing security environment, according to a University of Ottawa task force, which is urging leaders to urgently rethink the country's national security strategy.
The report, 'A National Security Strategy for the 2020s: How Canada can adapt to a deteriorating security environment,' is published by the Task Force on National Security of the Graduate School of Public International Affairs (GSPIA) in the Faculty of Social Sciences.
The group of experts who collaborated on the report comprises professors and senior fellows associated with the University of Ottawa's GSPIA, all with significant experience in national security, intelligence, foreign affairs, and defence communities. It is co-chaired by Thomas Juneau and Vincent Rigby, who is one of four former National Security Advisors to the Prime Minister involved.  
Canada has too often taken "shelter under the American umbrella," according to the task force, leaving it unprepared "to face this new world" where liberal democracies such as Canada's are increasingly under threat. Russia represents one of a series of threats endangering national security, including cyber-warfare, an increase in ideological extremism at home and abroad, and transnational threats such as climate change and pandemics.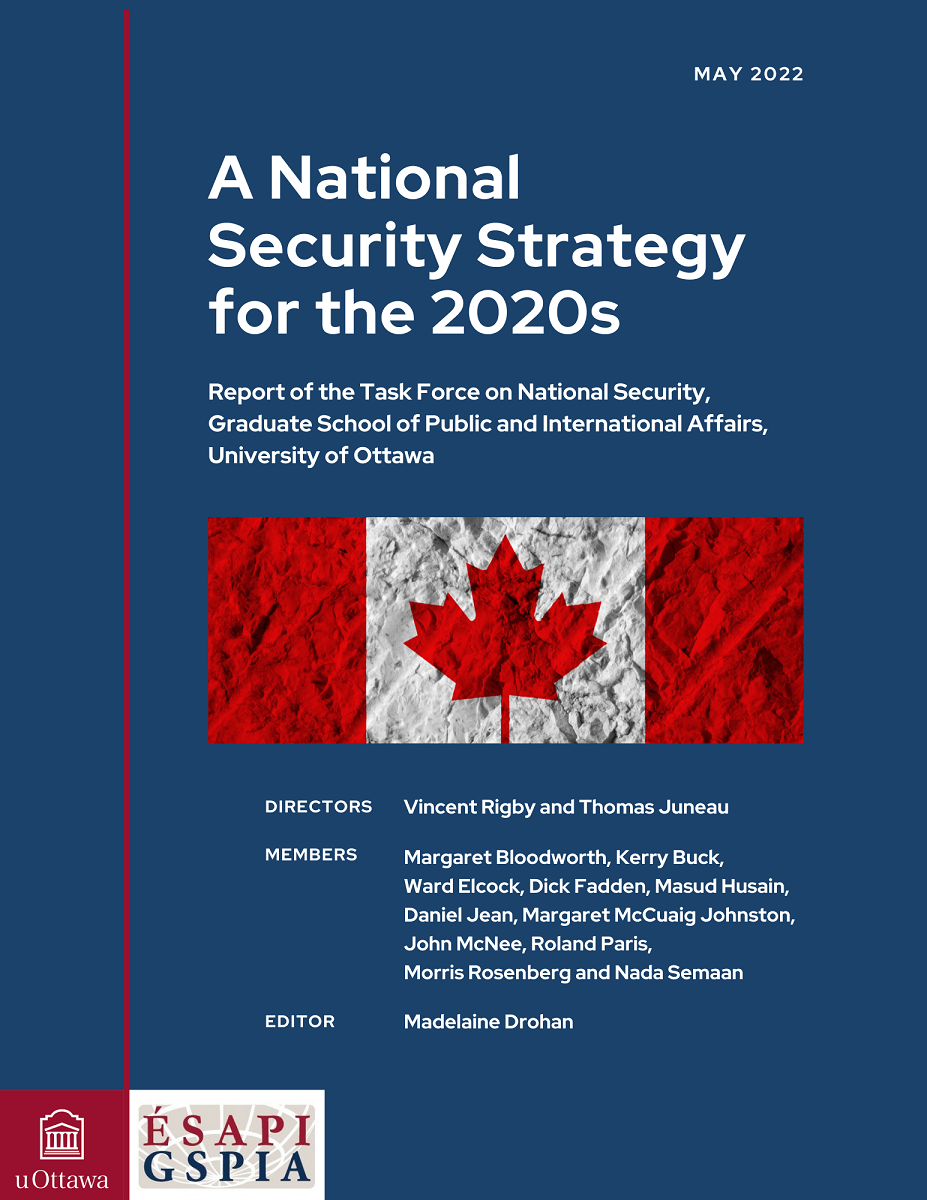 "Canada is not ready to face this new world ... Our 'fire-proof' house has vanished. So too must our complacency."
Task Force on National Security of GSPIA
"We can no longer count on some of the traditional pillars that have guaranteed our security and prosperity for decades," reads the report, which also includes analysis of the United States and China's growing influence on Canadian security.
"Since Canada last reviewed its national security policy in 2004, the world has been destabilized by the worst pandemic in a century and the sharpest economic slowdown since the Great Depression. We have not seriously reviewed the Canadian Security Intelligence Service Act since CSIS was established in 1984. And we are falling behind our allies in taking practical, concrete steps to address national security threats.
"Canada is not ready to face this new world," says the task force, which also interviewed serving senior members of national security and intelligence community for the report.
The task force thoroughly reviews Canada's current reality before calling on leaders to undertake a series of critical steps, including:
Holding a public review of national security to inform the public, highlight priorities, and identify the tools required to address them, including whether foreign, defence and development policies are adequate.

Establish a body at the cabinet level, chaired by the prime minister, with responsibility for national security.

Fight the erosion of trust in government by increasing transparency and engagement with the public and Parliament.

Strengthen existing national security tools and create new ones.
"Our 'fire-proof' house has vanished. So too must our complacency," the report concludes.
Access a full list of members of the GSPIA Task Force on National Security. The report will be presented at an online event on Tuesday, May 24, at 4 p.m.
Led by Director Roland Paris, the GSPIA's mission is to research and educate on cutting-edge issues of international affairs and public policy.
For media requests:
Paul Logothetis
Media Relations Agent
Cell: 613.863.7221
[email protected]