University of Ottawa signs on with leading industry partners BlackBerry, thinkRF, TELUS, and Wesley Clover to help develop faster, stronger, and more secure 5G-enabled capabilities for use in connected and autonomous vehicles and other applications
The University of Ottawa will help enhance Canada's national security thanks to two research projects awarded Research & Development funding from the Innovation for Defence Excellence and Security (IDEaS) national program.
The IDEaS program, created by the Department of National Defence (DND), is designed to improve DND's access to the creative potential of Canadian innovators. The program aims to invest in research that will enhance defence capabilities, create an economic impact, and ultimately, build an innovation ecosystem for national defence..
"Thanks to the novel work done at our Kanata North campus, the University of Ottawa has become the epicenter for advanced research in fields such as artificial intelligence (A.I.) and cybersecurity. Our highly relevant infrastructure and our brightest minds are a compelling advantage for our industry partners and government entities such as DND," said Sylvain Charbonneau, Vice-President, Research and Innovation. "This forward-looking research contributes to the development of real-life applications in an ever-evolving and highly competitive industry."
The Faculty of Engineering's Burak Kantarci, Director of the Smart Connected Vehicles Innovation Centre and of the Next Generation Communications and Computing Networks, has been awarded two of the eight nation-wide funding agreements, worth a cumulative $3M.
Connected and autonomous vehicles is the common use case in both projects, and the Smart Connected Vehicles Innovation Centre, located in uOttawa's satellite campus in Kanata North, will serve as the common ground for all partners involved in these projects. Along with the research outcomes, these two projects will contribute to training some 40 graduate students.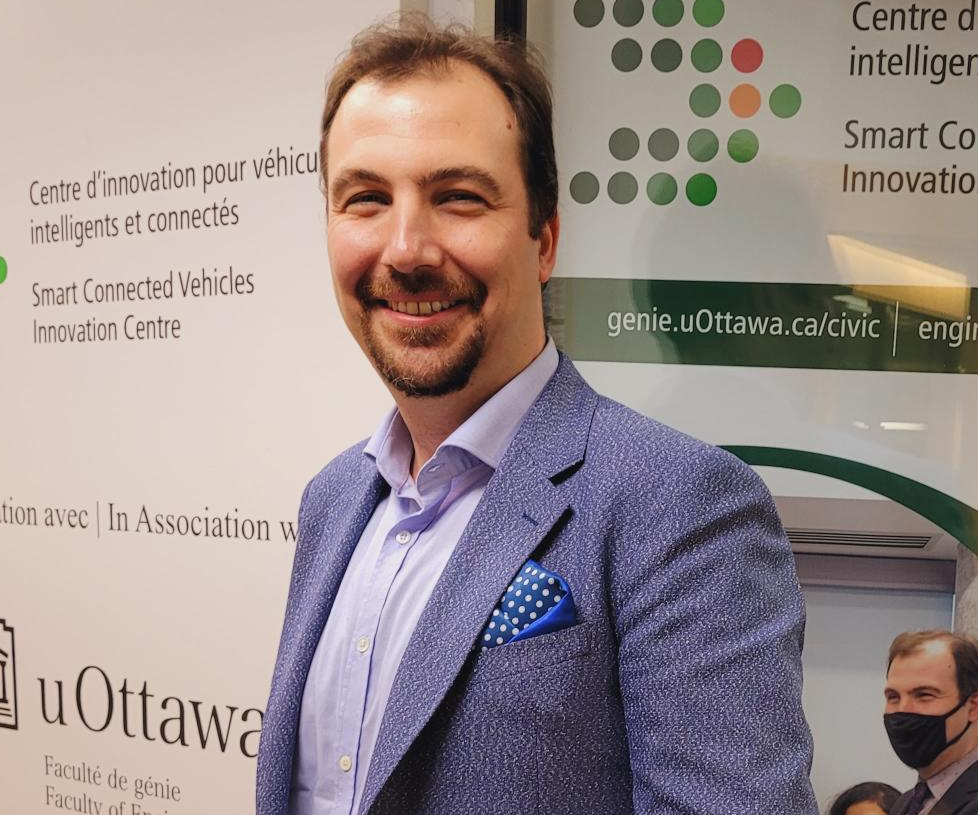 AI-Driven Situational-Aware Security and Performance Assurance for 5G-Enabled Critical Infrastructures
The first project will be developed in partnership with BlackBerry and thinkRF to advance a better collection and integration of multiple signals of cybersecurity intelligence from different sources for global situational awareness. This will notably include RF spectrum and sensing domains for 5G-enabled critical infrastructures with a strong focus on the connected/autonomous vehicle market. This project will be led by Professor Burak Kantarci as the principal investigator, in collaboration with a team of co-investigators at the University of Ottawa: professors Melike Erol-Kantarci, Claude D'Amours, Paula Branco, and Roland Bouffanais.
"With individuals increasingly relying on 5G connectivity in many areas of their lives, including transportation, it is only a matter of time before malicious hackers target the radio airwaves that will one day enable connected vehicles to communicate with each other and smart city infrastructure," said Charles Eagan, Chief Technology Officer at BlackBerry. "The IDEaS funding seeks to reduce this risk by building novel and innovative ways of fusing and combining vehicle and infrastructure real-time cybersecurity defences to limit the threat landscape. We are excited to bring our multi-sector expertise in end-to-end, AI-driven cybersecurity and the Internet of Things to the table, and with both the University of Ottawa and thinkRF. Together we will ensure that the transportation infrastructure of tomorrow, and the cars connected to it, are both secure and protected."
"5G is the catalyst of a new suite of wireless services that will run mission-critical processes and remote autonomous systems. As such, enterprises and critical infrastructure owners will need to monitor and analyze their wireless networks to ensure signal integrity and security," said Jim Roche, President  and CEO of thinkRF.
Autonomous, Reliable, Scalable, and Secure Resource Management in Multi-Level 5G Edge Computing
Wesley Clover and TELUS will innovate with Professor Burak on a second project, which focuses on designing artificial intelligence (AI)-backed autonomous decision-making models to provide DND with dynamic resource management. This includes different levels of edge computing, from the device (far edge) to the fog, and from multi-access edge to centralized public/private cloud over 5G networks.
This project will be led by Professor Burak Kantarci as the principal investigator, in collaboration with two co-investigators, Professor Melike Erol-Kantarci and Professor Liam Peyton at the University of Ottawa.
Terry Matthews, Chairman of Wesley Clover International, commented on this positive announcement: "I am pleased that DND has approved the joint University of Ottawa, TELUS, and Wesley Clover submission to their IDEaS program. The advanced 5G research, development, and deployment strengths of this partnership will provide DND with an intelligent new platform for managing edge-through-to-Cloud computing resources securely, dynamically, in real-time. The result will be that DND applications leveraging AI, IoT, and other important technologies can be assured of having the accessibility, responsiveness, computing and data processing power, and reliability needed, regardless of where within the DND environment and 5G-enabled network those applications are best positioned."
The outcomes of this cutting-edge research will help build trust in 5G and critical infrastructures by mitigating potential security threats. The projects will also enable new market entries, as security capabilities are in demand for multiple segments, such as critical infrastructure, signal intelligence, and national defence.
The research personnel trained in these AI-driven projects will be "workforce-ready" to contribute to the Canadian economy in a wide variety of sectors and applications that take full advantage of 5G-enabled telecommunications, signal processing, AI, and cybersecurity.
For additional information: [email protected]
About IDEaS
Innovation for Defence Excellence and Security (IDEaS) is a defence innovation program which invests in research and technology aimed at meeting the demands of today's complex global defence and security environment. The program enables Canada to deliver the capabilities needed for a strong and agile military by providing financial support to foster innovation through contracts, contribution agreements and grants. The IDEaS program helps innovators by supporting analysis, funding research, and developing processes that facilitate access to knowledge. It also supports testing, integration, adoption, and acquisition of creative solutions for Canada's defence and security communities. To learn more, please visit the IDEaS website.