The Pleodendron costaricense is an ancient tree on the verge of extinction. Only nine specimens are known to exist. Found in Costa Rica, in the mountains near the Pacific Ocean and in the Osa Peninsula, the tree is referred to by botanists as a "living fossil" because of its historic lineage.
Tony Durst, a professor emeritus with the Department of Chemistry and Molecular Biology, first studied the chemical composition of its bark and leaves about 25 years ago. Recently, he teamed up with conservation scientists in Costa Rica to examine the fruit. Their goal is to understand why this species of tree is so rare, and they hope new insights may also help the team at Osa Conservation's Arboretum in their efforts to repopulate it.  
"Both the leaves and the fruit, when crushed, smell really nice — kind of minty and spicy," says Durst. "In our earlier work, we isolated and identified from the tree bark and leaves a variety of compounds with anti-fungal properties. We have since found that the peel of the fruit contains many of the same compounds."
This could explain why white-faced capuchin monkeys like to rub the peel into their fur. One intriguing idea, according to Durst, is that the monkeys are using the fruit as medicine, to treat fungal infections. Scientists still don't know for certain.
"Another very plausible theory is that it could be a mosquito repellent," he says. "It may also serve simply as an attractant, which monkeys are drawn to in the same way humans are to perfumes."
Video credit: Osa Conservation
Other animals, including kinkajous, olingos and coatimundis (all members of the raccoon family known as procyonids), prefer feasting on the tree's bright green fruit. So for Durst, the next logical step was to isolate chemicals in the pulp and seeds. 
Working with Durst, CO-OP student Serena Bezanson spent this past summer analyzing various parts of the fruit. Guided by Dr. Sharon Barden, director of the John L. Holmes Mass Spectrometry Facility (one of 26 uOttawa core facilities), Bezanson learned how to extract the chemicals from the peel and pulp, run the samples and analyze them using a combination of gas chromatography and mass spectrometry. Through this work, she has potentially identified several dozen compounds that have yet to be catalogued by scientists. 
"The existing molecular database is very extensive, so it's exciting if we find new ones. Over the years, many people have worked on chemicals made by plants, so it's hard nowadays to find something completely novel," says Bezanson, who just started a combined bachelor's-master's in cellular and molecular medicine at the Roger Guindon campus this fall. "I really enjoyed my experience as a CO-OP student and working on this fascinating project. Learning chemical identification techniques and using the core facility's high-precision equipment will be a great asset to my career."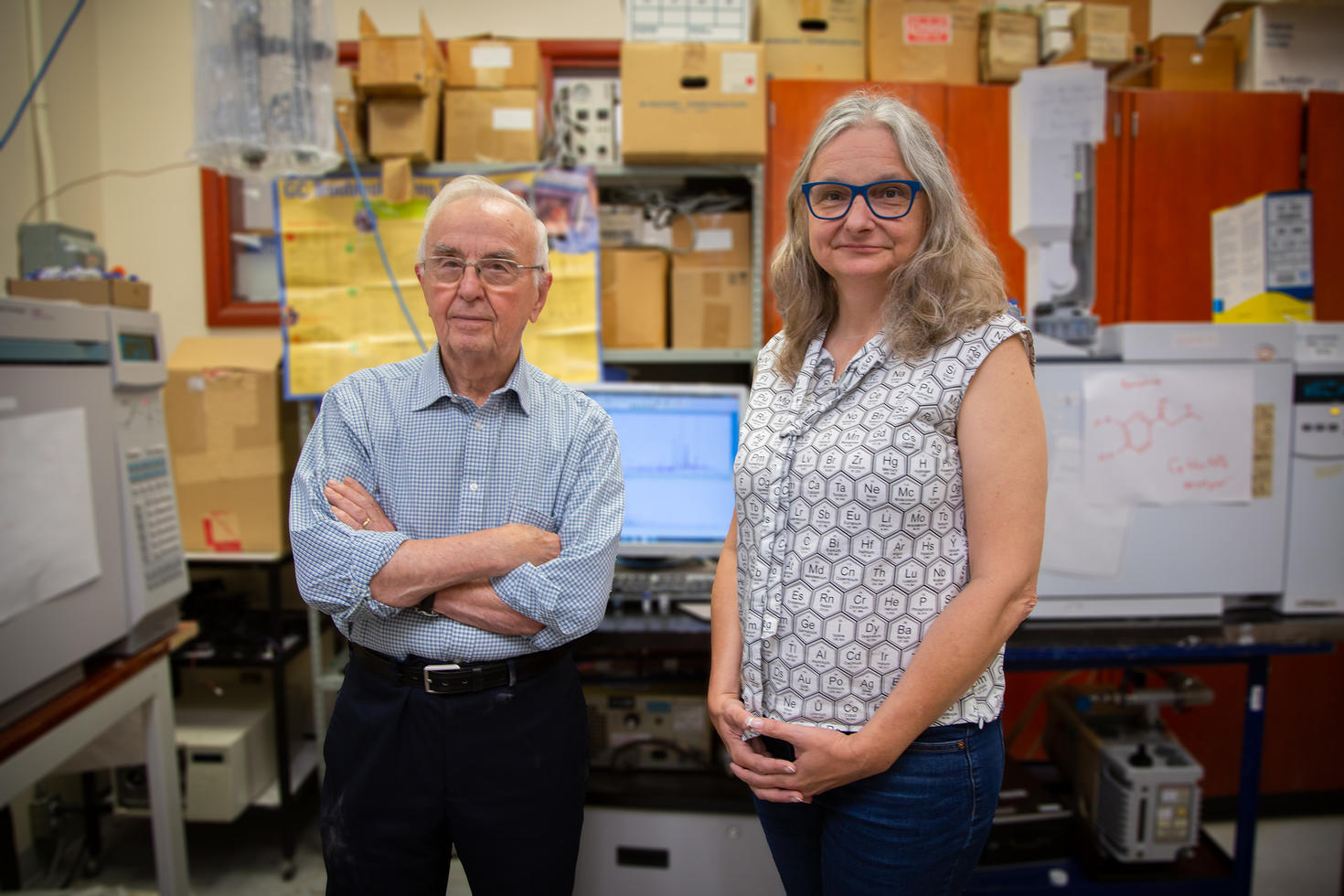 While analyzing the pulp, Durst and Bezanson found something else unusual.  
"Typically, when animals are interested in eating a particular fruit, it's because there is nutritional value — sugars for energy or antioxidants that help boost the immune system," says Durst. "But the pulp in this fruit doesn't seem to have anything close to that. In fact, Serena found that the compounds in the pulp are the same or similar to those in the peel. So why are these animals so interested in eating them?"
The shiny black seeds found within the fruit are puzzling to the uOttawa researchers as well. Durst wonders, why don't the seeds germinate and form new seedlings once they've hit the ground or after they've passed through an animal's digestive system? How is this tree critically endangered?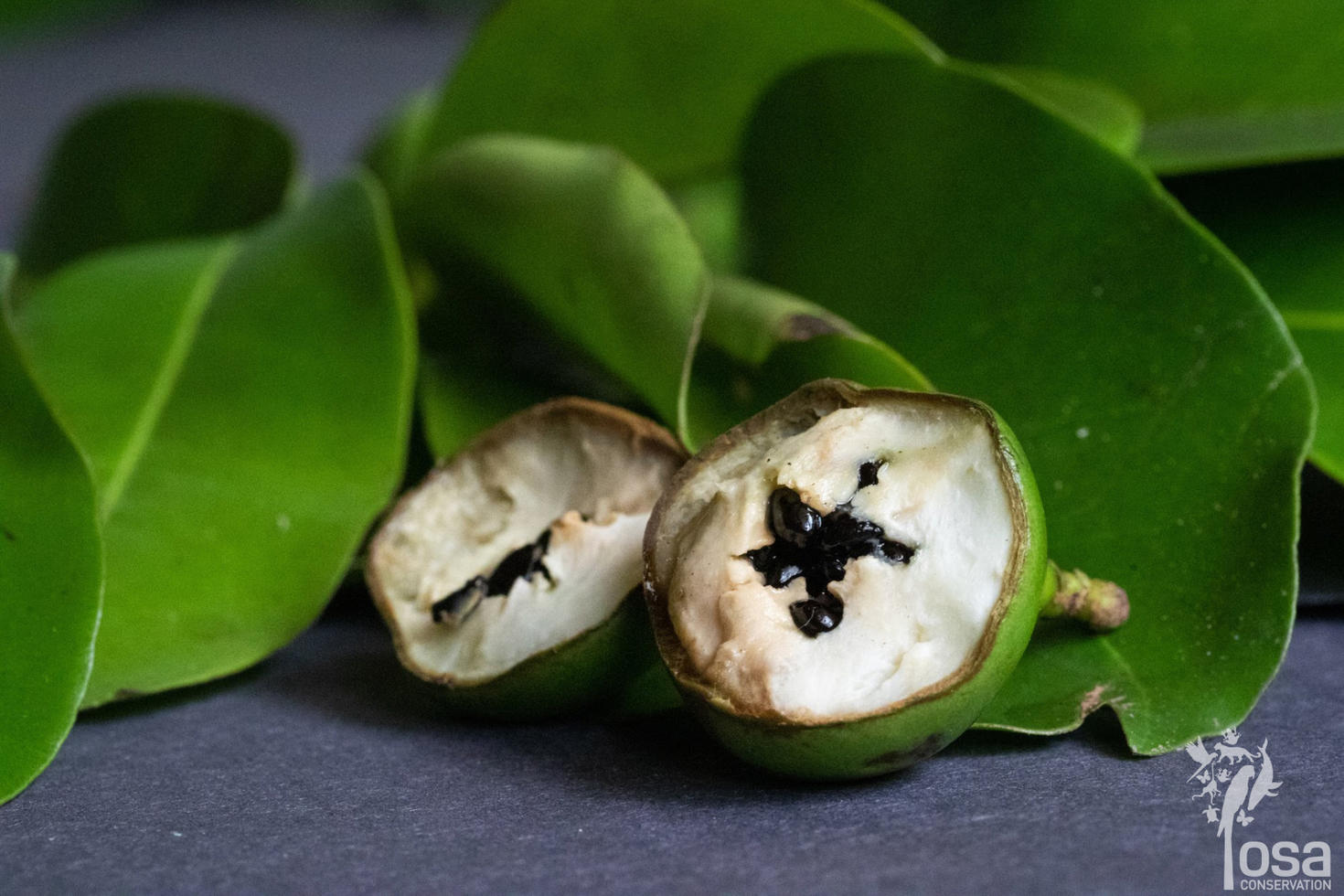 "Scientists at Osa Conservation reported that ants and cockroaches like to eat the seeds, so maybe they're being destroyed before they can germinate," says Durst. "A colleague of mine also posited that maybe the animal that used to disperse the seeds is now extinct. In any case, the unusual composition in the pulp might be a clue as to why the tree is at the edge of extinction. And that's the beauty of scientific research, right? We all have our theories, and the fun part is using technology to validate them or rule them out."
Recently, the botanical research team at Osa Conservation, led by María José Mata Quirós and Leonardo Álvarez Alcazar, has been able to cultivate nearly 150 new seedlings, aided by exposing the seeds to gibberellic acid, a plant hormone that stimulates growth. This may save the species from extinction. 
"Pleodendron costaricense seedlings are now growing in our campus, other protected areas and in our restoration partners' land — so people in the Osa Peninsula and beyond are getting familiar with a tree that is so rare that it doesn't have a common name," says Mata Quirós. "We are trying to confirm the procyonid's ability to disperse the seeds by performing gut passage experiments. With 30% of tree species threatened with extinction worldwide, it is our mission to bring people closer to trees, and to help fill the knowledge gaps that tropical tree conservation faces."