The Faculty of Arts is committed to supporting voices for equity, diversity and inclusion. The Arts Without Borders fellowships reflect this commitment, offering a unique opportunity for two postdoctoral researchers to pursue their work at the University of Ottawa. The Faculty of Arts sat down with one of the fellows, Dr. Sheetala Bhat, to discuss her work and plans.
Love is an endless source of inspiration for artists and researchers alike. Just when you think there's nothing left to say, love finds its way into your heart and into your notebook. Dr. Sheetala Bhat studies theatrical performances of love in India and on Turtle Island (an Indigenous term for North and Central America). Rather than looking at love as a universal feeling, often depicted in hetero-normative settings, she examines love through the lens of colonialism.
Drawing from Indigenous scholars, Bhat describes the theatrical performances of love as "loveformance." Anishinabe scholar Jill Carter once told her that "love is not a feeling — it's a doing. It's a performance." It helped Bhat think similarly about love, whether it be in self-recognition practices of community or relationships between humans and non-humans. Love then became a broader concept for her to think about colonialism.
Like most of us during the pandemic, Bhat watched many online performances. One of the great pieces of theatre that inspired her research is Kim Senklip Harvey's play Kamloopa (2020), which received the Governor General's Award for English-language drama. Set on Highway 97 in British Columbia, the play tells a love story between Indigenous women.  Although the play is set in a place known for colonial violence, "it refuses to talk about it. Rather, it focuses on nurturing and the journeys of laughter, happiness, and joy of Indigenous women. It resists stereotypes and colonial narratives about how Indigenous women are seen only in relation to violence," Bhat explains. Kamloopa is an example of how an Indigenous artist can use the concept of love to fight against colonial artistic norms.
Love is also at the heart of social justice issues in Bhat's native India. Every Valentine's Day, the romantic holiday is overshadowed by mass violence by Hindu nationalists against women, queer people, and intercaste and interreligious couples. These acts of violence are also marked by opposition from feminist movements.
Bhat has participated in India's Pink Chaddi campaign, which stands in opposition to this form of violence, bearing witness to it. This has encouraged her interest in the ways in which colonial forces manipulate the love experienced by women and queer people.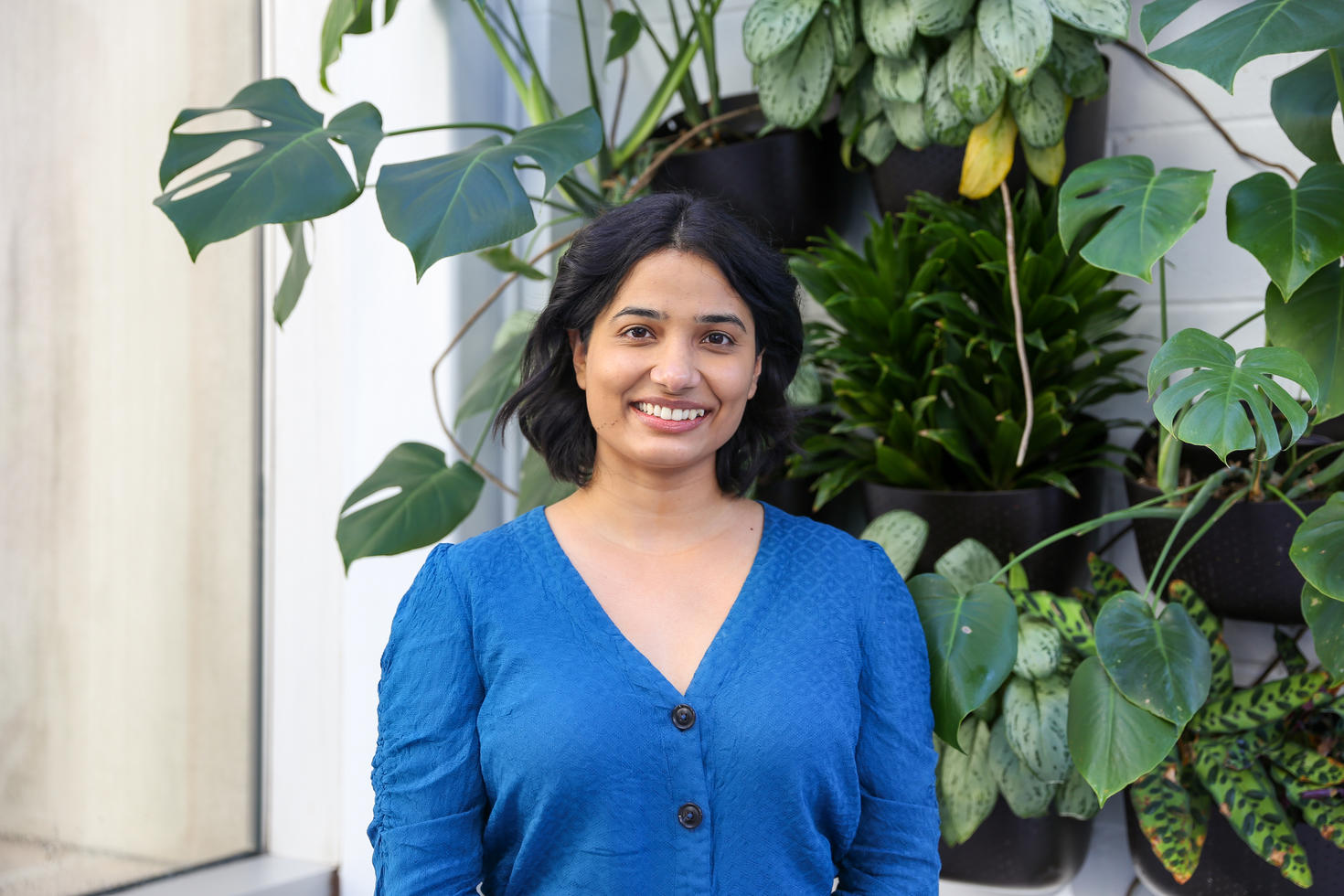 "My research is interdisciplinary… as I work on Indigenous studies, South Asian studies, postcolonial research as well. I also draw from studying protests using ethnography, … by interviewing artists."
Dr. Sheetala Bhat
As part of the Arts Without Borders fellowship, Bhat will study digital performances by Indigenous artists from across Canada and India. She will examine colonial and capitalist surveillance of digital spaces to understand the influence it has on performances. She notes that in recent years there has been a migration of such performances from digital platforms to live performances, theatre and street protests.
Since moving to Turtle Island, Bhat has increasingly incorporated her activism in her research and daily life. "I don't think of research as separate from activism," she says. "I would like to think of them as continuous, although academia is often not seen as part of activism, and activism is just what you do in the street, in a protest."
Bhat says, "My research is interdisciplinary … as I work on Indigenous studies, South Asian studies, postcolonial research as well. I also draw from studying protests using ethnography, as well as by interviewing artists."
Aside from creating a research group that will explore performing nationalism with scholars from various disciplines and countries, Bhat aims to create a series of workshops, followed by a conference before the postdoctoral fellowship ends. Bhat is also excited about attending plays at the National Art Centre and skating on the Rideau Canal this winter.
The Faculty is thrilled to welcome Dr. Bhat, and we're looking forward to seeing her contributions to many different disciplines.