Helping students understand the ongoing impacts of colonialism and the goals of reconciliation is essential. However, many teachers feel unprepared for difficult classroom conversations. For alumna Lisa Howell (PhD '22), learning directly from and alongside First Nations, Inuit and Métis peoples should be the starting point for all educators.
The Canadian Association for Teacher Education agrees. It has awarded her a CATE 2023 Recognition Award for Theses and Dissertations for her SSHRC-funded PhD project, "After About: Unlearning Colonialism, Ethical Relationality, and the Possibilities for Pedagogical Praxis." 
"It is an honour to be recognized by (CATE). My research sought to address how colonial logics are taught and maintained through school curricula, national narratives, public memory and Canadian culture," says Howell. "This is a matter of vital concern, as many educators feel ill-equipped to teach about the significances of treaties, land nor ongoing oppression imposed on Indigenous Peoples by the Canadian state." 
Howell realized early in her teaching career that her own knowledge of Indigenous-Canadian history and relations was lacking. With her students, both Indigenous and non-Indigenous, she started unlearning the history she was taught, which dramatically shifted her perspectives and ignited a passion for research and activism.  
Howell has received many accolades for her work as a teacher, scholar and community advocate, including an Indspire Guiding the Journey Partner in Indigenous Educator Award, a Governor General's History Award for Excellence in Teaching and an R.W.B. Jackson Award for the most outstanding English-language article for her co-authored piece in the Canadian Journal of Education.  
Societal transformation through education
The common thread in Howell's work is a belief in the transformative power of education. Her research shows, however, that learning about Indigenous peoples is not enough.  
"My findings suggest that teacher education and professional learning that provide educators with extensive opportunities to learn from and with First Nations, Inuit and Metis peoples rather than about them are crucial," Howell argues. "If they don't, there is a significant possibility that teacher education and professional learning, as most frequently offered, will not manifest in the transformational change that the Truth and Reconciliation Commission called for." 
For Howell, a part-time professor in the Teacher Education program at uOttawa, responding to the calls to action means much more than implementing curricula and providing learning resources in schools across Canada.
Learn more about Lisa Howell, including her contributions to public scholarship and open access resources for Bachelor of Education candidates and in-service teachers.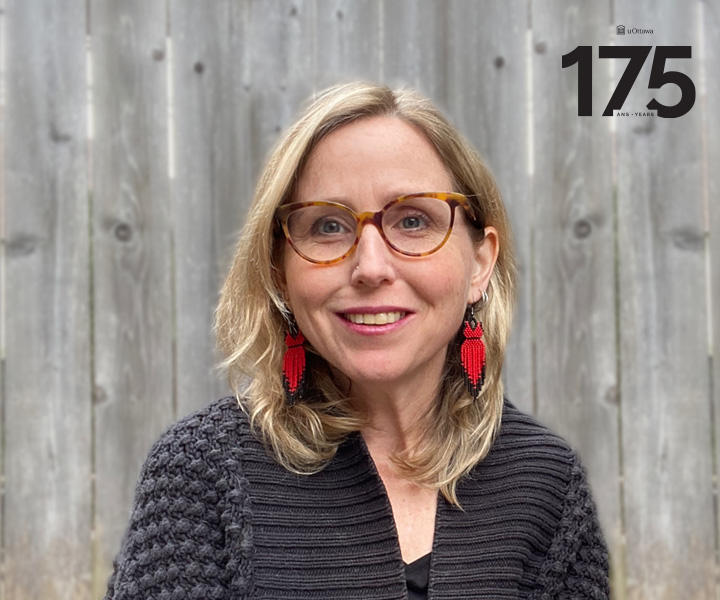 175 Years
"In the next 25 years, I hope to see uOttawa strengthen its commitment to working with Indigenous scholars, students, communities, and allies to enact structural change..."
Lisa Howell
— (PhD '22)
Why uOttawa?
In our conversation with Howell, we asked her to reflect on this year's 175th anniversary, why she chose to study here, and where she sees the University at its next milestone.
"When I began my studies at uOttawa 25 years ago, I was newly married with a small child, living in Sandy Hill. uOttawa was a five-minute walk away, and this made it possible for me to pursue my degree and raise a family," explains Howell. "I've stayed at uOttawa because of the relationships I've developed with generous and brilliant students, scholars, researchers, and colleagues who I continuously learn with and from." 
Howell adds "In the next 25 years, I hope to see uOttawa strengthen its commitment to working with Indigenous scholars, students, communities, and allies to enact structural change to disrupt performative Indigenization. Substantive, relational, and sustainable Indigenization requires structural change across faculties and administration on an ongoing basis that is both rigorous and ethical." 
Image note: Howell selected the principal photo of the Kichi Zibi (Ottawa) River for its significance as a place where she says "I have done a lot of learning alongside Anishinaabe people."