On October 18, the University of Ottawa hosted the Rt. Hon. Kim Campbell, the first (and only) woman to hold the office of prime minister of Canada.
Campbell was the guest of honour at an event titled "The Power of Women's Voices in Public Life," presented by the Women's History Project, in partnership with the Famous 5 Foundation, Famous 5 Ottawa, the Canadian Research Institute for the Advancement of Women and the University of Ottawa, with the support of the uOttawa library. 
Held as part of Persons Day, which commemorates the October 18, 1929, decision by the British Privy Council that recognized women as persons, the evening talk was an opportunity for the former leader to celebrate women's full personhood:  "It's not enough to be legally persons. We have to be recognized for that full quality of the lives that we lead and that we offer to society."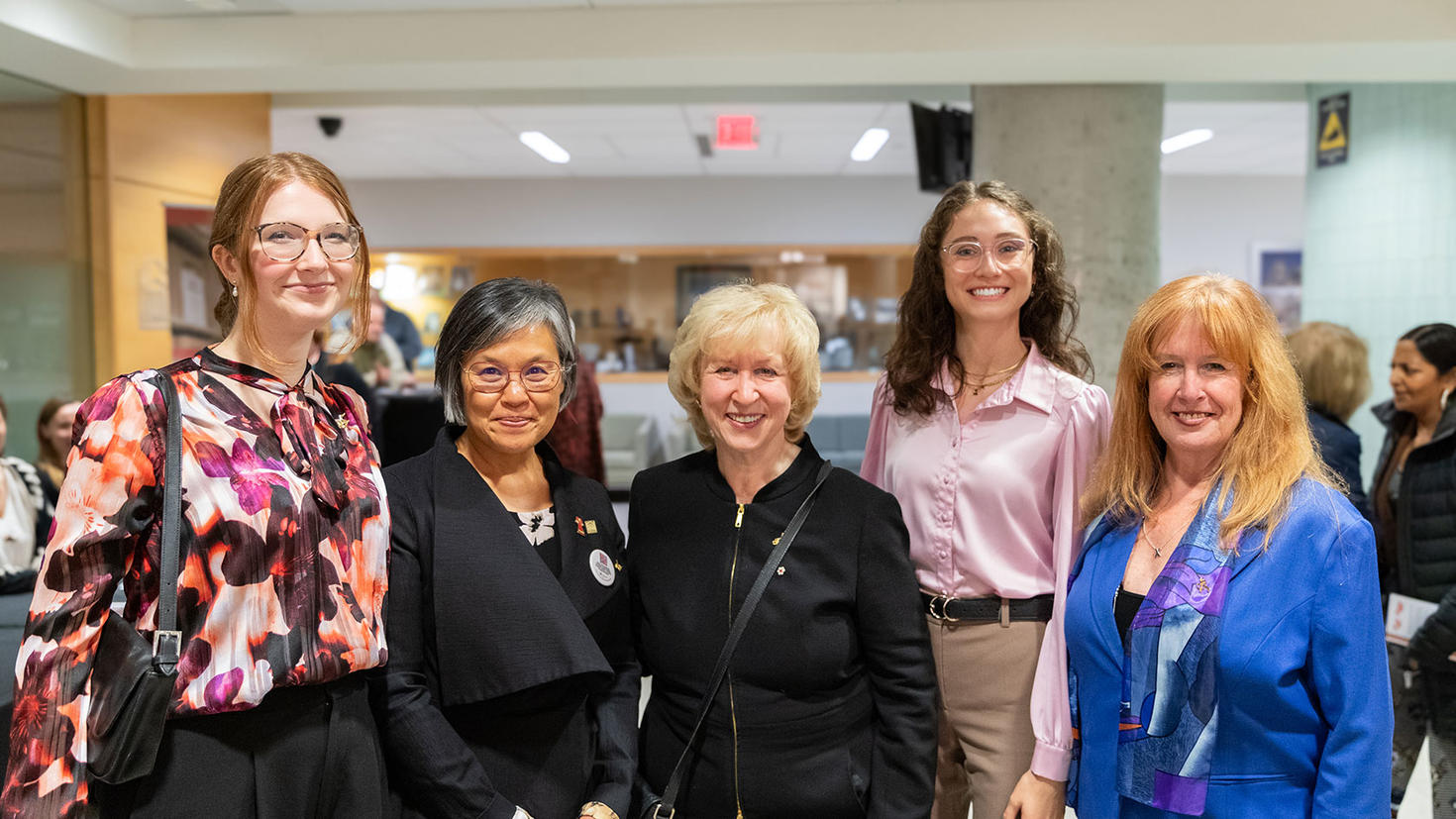 Campbell used the forum to remind those present of the importance of opposing the persistent myths, prejudices and stereotypes around women, and of challenging certain narratives that seek to hide women's contributions in the academic and cultural fields:  "We have to change the narratives about women. We have to rediscover and rearticulate the existing accomplishments. We don't have to make it up. We don't have to pretend. We don't have to exaggerate … The fact that, as a sex, we have made extraordinary contributions to world culture has to be part of our conversation … Narratives matter, and we must tell the narratives that are true."  
A history of political "firsts"
From the time when, at 16, she became the first young woman president of her high school student council to 30 years later, when she became the 19th person to lead the country, Campbell has spent a large part of her life breaking glass ceilings.  
After being a member of the Vancouver School Board, and then, of the Legislative Assembly of British Columbia, she made the jump to federal politics in 1988. As a member of Brian Mulroney's cabinet, she became the first woman to serve as minister of justice and attorney-general of Canada, and then the first to be named minister of national defence and minister of veterans affairs. 
These experiences allowed her to implement the "Campbell mode of consultation," which involves broadening public consultations to involve all stakeholders, including marginalized groups. This willingness to engage them, as well as her predisposition to collaboration, led to her getting difficult or controversial bills passed. She credits these victories to her ability to form relationships based on fairness and respect: "The most valuable currency you will ever spend is respect. If people feel respected, there is a basis for communication."  
Campbell's rise in politics culminated, as we know, in her becoming leader of the Progressive Conservative Party and, consequently, Canada's head of government, a position she held from June 25 to November 3, 1993.  
As the first woman to hold this position, Campbell recalls her fear of failure: "My one fear was: if I run and I become leader and I fail, will I spoil it for everyone." In hindsight, she's very aware that even if a woman fails, the female sex as a whole doesn't fail as well. She adds, recalling the double standards she's come up against at times, that "the ideal thing is for women to get to the point where they are equally forgiven, where they are not held to that higher standard."   
Undoubtedly, this is why, when her parliamentary career ended, Campbell got involved with many international organizations, including the Council of Women World Leaders, which brings together 34 women heads of state and of government (current and former), an organization of which she's also chair emerita. Through this group, Campbell wishes to give more visibility to the world's women leaders. Regarding their presence at the highest echelons of power, she says that "we have to not see it as an anomaly." 
From her time in government, Campbell has retained her desire to do politics differently, to avoid having voters feel neglected by their government: "I wanted to try and do politics in a way that would make citizens feel good about their democratic community."  
She continues to advocate for democracy through the multiple forums, boards and committees she participates in. 
Finally, Campbell ended the evening encouraging the audience to protect that which is most precious: "At the end of the day, there is nothing you can do that is more important than make democracies work." In fact, in the face of the rise of authoritarianism and populism — movements that, she stresses, are particularly belligerent towards women — maintaining the rule of law must remain a priority, since "the most important thing we can say about our country is that it's a democracy."   
Learn more about women's history and contribution to public life: