uOttawa's newest building, with its up-to-date teaching, learning and research spaces, will give Canada's future health leaders the hands on, job-ready skills they need to help solve Canada's ailing health system.
Canada's health system is in crisis. According to Employment and Social Development Canada news release (June 8, 2023), there were over 96,200 unfilled positions in health occupations as of 2022, a growing problem felt more acutely in smaller and remote communities that have difficulty attracting health-care professionals.  The newly inaugurated Faculty of Health Sciences facility is part of uOttawa's response to this crisis.   
Committed to developing solutions for one of our greatest national challenges, the University has invested $130M in a new facility to provide tomorrow's health-care professionals with modern, nimble spaces where they will receive real-world training to provide quality care upon graduation. 
Located beside the Rideau River, the five-story building is one of the most sustainable and energy efficient in Ottawa. In fact, it is one of the few LEED platinum certified buildings in Ottawa. It can accommodate 4,000 students, who will help address chronic labour shortages in the health-care sector. The building houses the schools of Nursing, Nutrition Sciences and Rehabilitation Sciences, where the disciplines of audiology, speech language pathology, physiotherapy and occupational therapy will be taught. Classrooms and laboratories are equipped with state-of-the-art technology to immerse students in real-life settings and promote the innovation and essential research needed to improve patient care and the lives of people around the world.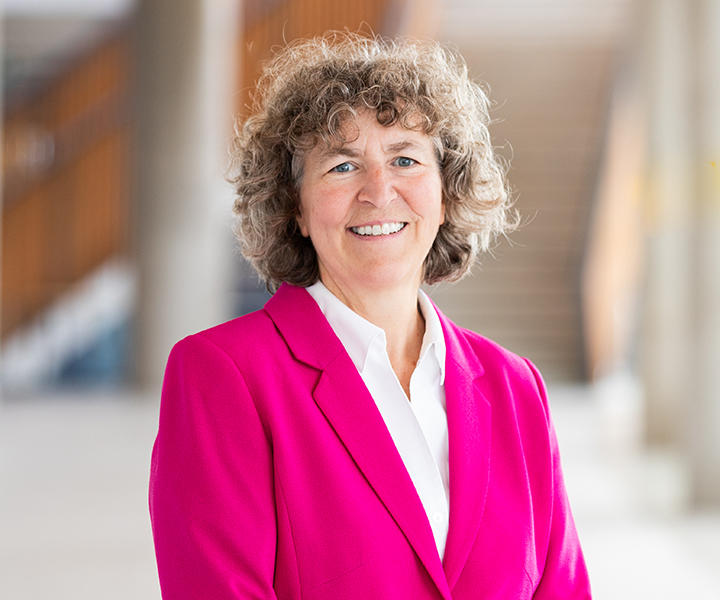 "Our students will have an advantage because they will be trained in settings that replicate the environments which they'll be working in."
Lucie Thibault
— Dean of the Faculty of Health Sciences
For example, sophisticated labs will allow students and researchers to analyze everything from food composition to the impact of temperature and oxygen levels on the human body. Occupational therapists will learn in real living quarters, while nurses will study diagnostics and treatment techniques in a hospital-like setting on manikins capable of simulating various ailments.  
Driving transformative health research
This new building is also a testament to uOttawa's commitment to research and innovation in health care through a broad program that will include biomechanics, exercise physiology, rehabilitation sciences, nutrition and food sciences, motor control and neuroscience, and women's and Indigenous health, to name but a few areas. 
Recognizing that breakthroughs don't happen in silos, key labs are placed in close proximity to promote organic collaboration among researchers from various fields.  
Human kinetics professor Pascal Imbeault compares this one-stop-shop of health and well-being research to a Swiss army knife:  
"If, for example, you're a student interested in eating behaviour, you can work with a physiologist to find out what impact overweight or obesity has on various biomechanical, motor control or even physiological parameters. This way, many disciplines are brought together under one roof, and I believe it will help train our future health professionals." 
This emphasis on technology and research is why graduate nursing student Sandra Pierre chose uOttawa. "I wanted to study at the University of Ottawa because I wanted to be in a university that is recognized worldwide for its research. We need more nurses who do research, we need nurses providing excellent bedside care and we need nurses looking for new ways to help improve patient care. I can do that here at uOttawa." 
"There's a great deal of positive energy in our new facility," concludes Dean Thibault. "You can feel it from the students, from the administrative personnel and from the professors. It's a great space. I feel the enthusiasm and I really feel that it's going to be a great space for teaching, for learning, and for research." 
The opening of the new Faculty of Health Sciences building is just one important milestone in the University of Ottawa's growing emphasis on health academic programs, as well as research programs, as it focuses on the need to strengthen health care for Canadians. It also recently celebrated the School of Pharmaceutical Sciences' launch of the only French-language pharmacy program offered outside of Quebec. 
And in the coming months, the University will begin construction of the Advanced Medical Research Centre, where top researchers will work with medical startups to speed development and commercialization of new health tools and therapies.