Thanks to a historic investment, this fall, uOttawa will be expanding its range of programs taught in French, namely in science and engineering disciplines that are key to the future of Francophones in Ontario.
Francophones from Ontario and across Canada will be able to acquire the knowledge and skills they need to thrive in the knowledge economy by taking courses taught in their first language. What's more, they will be able to do so near Kanata North, the country's the most important technology hub, armed with the competitive advantage of being bilingual.
Minister of Official Languages Ginette Petitpas Taylor was on campus, along with President of the Treasury Board and MP for Ottawa-Vanier Mona Fortier, to announce the $34.7M in provincial and federal funding earmarked for this purpose.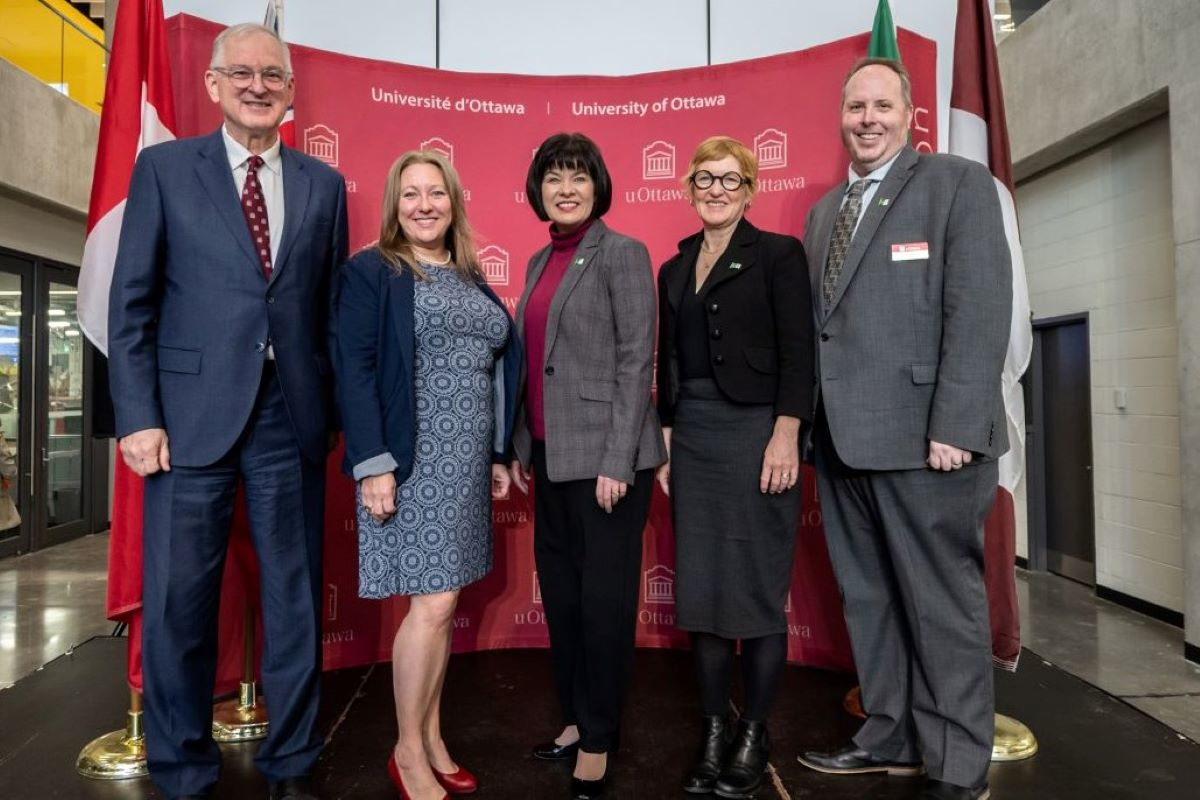 "The University of Ottawa is a flagship institution for the promotion of our two official languages and the development of the Franco-Ontarian community. This post-secondary institution plays a leading role in the province's Francophone communities and attracts thousands of international French-speaking students. That is why it is important that we support it in the pursuit of its mandate by improving its programs and services in French."  - Ginette Petipas Taylor, Minister of Official Languages of Canada
Recognizing the vital need to protect the scope and variety of its academic programs, in 2016 the University of Ottawa asked that most of its 265 programs taught in French, and all of its services, be designated under the French Language Services Act of Ontario.
This new funding will extend this designation to more programs through the hiring of some 20 new Francophone professors to teach in STEM (science, technology, engineering and math) fields, thereby giving even more students the opportunity to take all their courses in French. In addition, uOttawa's new pharmacy program, which will be taught in French and is the only one of its kind outside Quebec, will start this fall.  
"Today we are sending a strong message to students who are looking for a high-quality learning experience. This funding represents a historic opportunity to permanently expand the range of programs offered in French within the Francophonie in Ontario. In this way, we strengthen the resilience of Francophone communities as only the University of Ottawa can."  - Jacques Frémont, President, University of Ottawa
The University of Ottawa currently trains the vast majority of Francophones who seek to bring about genuine equality by offering front-line services in French in communities scattered across Ontario. These professionals include teachers, lawyers, scientists, social workers, entrepreneurs, nurses, and doctors.
A recent report on post-secondary studies in minority Francophone settings shows that Francophones who pursue university studies in French are more likely to live and work in French. This highlights the urgent need to provide training that meets the needs of young Francophones in order to encourage them to study in French and resist the temptation of studying in English.
Moreover, this funding will also allow the University to offer new programs in health and management and to create new experiential learning spaces for students enrolled in nursing, nutrition, speech therapy and audiology.