Thanks to a partnership agreement signed between the Faculty of Medicine and the Kilimanjaro Christian Medical University College, students have a unique opportunity to learn and gain critical experience abroad.
Five uOttawa Faculty of Medicine students recently had the learning experience of a lifetime, spending several transformative weeks in Tanzania this summer. This new opportunity, made possible by the Faculty's strong partnership with our counterparts overseas, allowed them to take a closer look at global health, to learn and gain experience in an intercultural context.
Since 2021, the Faculty of Medicine has established a partnership with Kilimanjaro Christian Medical University College (KCMUCo) in Tanzania. This collaboration aims to reduce health inequalities and strengthen health systems in the Kilimanjaro region. The goals are numerous and diverse: to reduce disparities between high and lower-income countries, improve the skills of health professionals, encourage health research, and provide international learning opportunities for students and faculty members from both institutions in a multicultural environment.
Thus, for three weeks, from June 11 to 30, 2023, Maria Paula Jaramillo, Jessica Poliwoda, Bethany Wollin and Ruth Chen, second-year undergraduate medical students, had the opportunity to visit KCMUCo and experience the day-to-day realities at two local organizations, Kiwakkuki and the Majengo Health Center, both based in Moshi. A fifth student, Amarachi Asomugha, was in Tanzania for six weeks, from June 11 to July 21. As part of her Master of Public Health program, Amarachi had the opportunity to complete her internship at the malaria research center based at KCMUCo. There they were able to share their knowledge, learn about another culture and health system, interact with local medical students and faculty members, and learn from their experiences.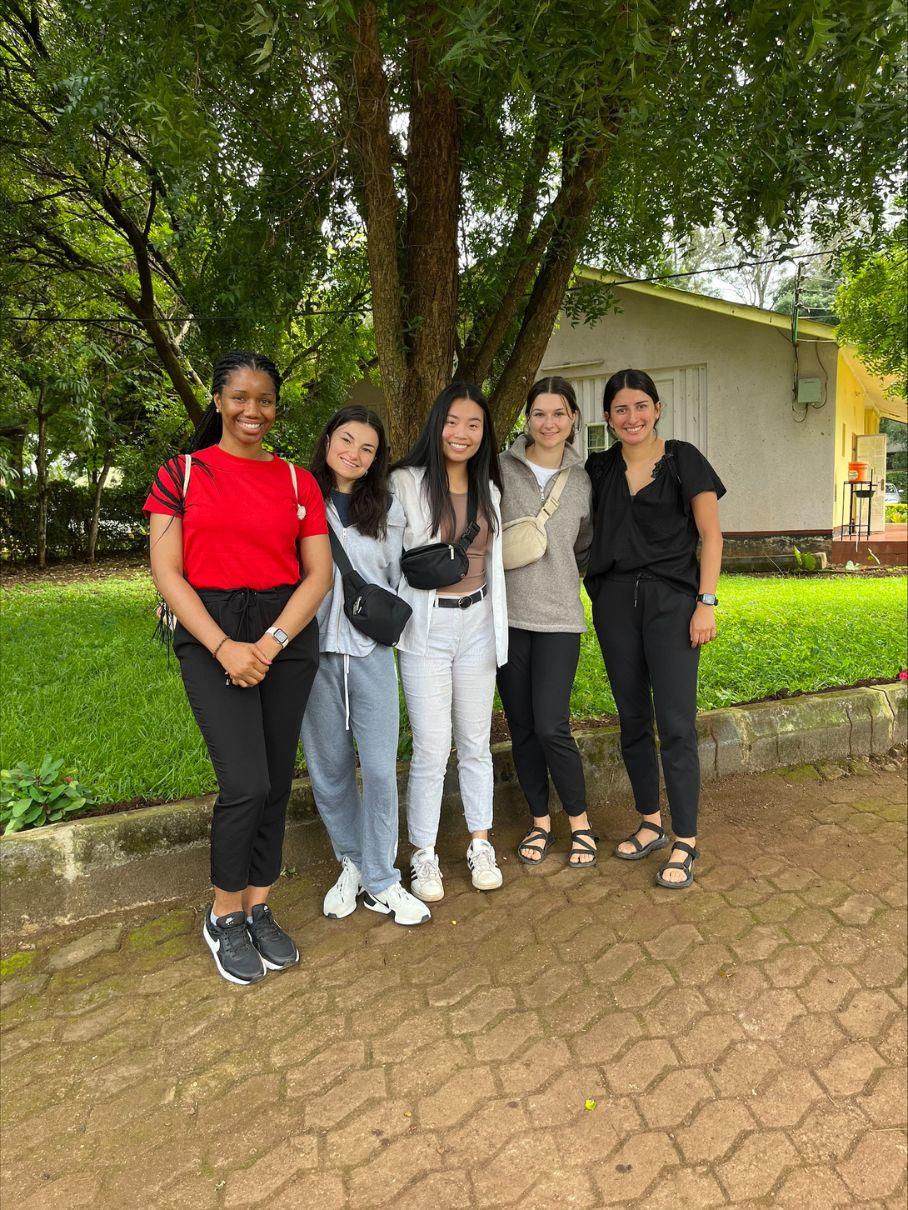 The experience was invaluable, providing a chance to experience and reflect on the challenges facing local populations and providing primary health care in resource-limited settings. Maria Paula Jaramillo emphasized the importance of their exchanges with local experts.
"The three weeks we spent in Moshi allowed us to meet incredible individuals, see health care delivery in another country and reflect on the similarities and differences in resources and priorities between communities in Tanzania and those in Canada", said Jaramillo. "I felt incredibly welcomed by the various community members we had the opportunity to learn from."
Kiwakkuki works closely with community groups in the Kilimanjaro region to implement HIV/AIDS prevention and support programs. Their projects include a community development programme focusing on agricultural skills and another aimed at mitigating the psychosocial and socio-economic consequences of HIV among children.
The Majengo Health Centre, on the other hand, offers outpatient medical services, with particular emphasis on maternal and newborn health care. In partnership with KCMUCo, the centre is also conducting a research project on mother-to-child transmission of HIV. Majengo's support program promotes a holistic approach to health, including breastfeeding promotion, access to microcredit, and access to mental health services.
For Jessica Poliwoda, this experience was rich and meaningful.
"My time in Tanzania was a great opportunity for me to embrace and immerse myself in a new culture", said Poliwoda. "All the local people made me feel very welcome, which allowed me to learn about their culture to the full extent. It was an enriching and meaningful time and I hope to return in the future."
The student exchange is part of a larger ongoing partnership between the University of Ottawa and KCMUCo. Dr. Manisha Kulkarni, Assistant Dean of Global Health in the Faculty of Medicine, is very pleased with the positive impact of this collaboration on the Faculty's students and professors.
"We can see exciting prospects for the coming years", said Dr Kulkarni. "This type of exchange strengthens intercultural understanding, enriches the learning environment and allows for a better understanding of different health challenges, determinants, and health systems around the world. I hope that this initial group of students will be the first of many to take part in two-way exchanges, helping to build a long-term, mutually enriching, sustainable partnership."
This collaboration with KCMUCo aligns with the Faculty's strategic goals, and responds to growing student demand for global health education focused on knowledge sharing and on-the-job learning. It contributes to improving health both locally and globally, and emphasizes social responsibility and ethical principles in global health.
From a global perspective, this partnership also supports the United Nations Sustainable Development Goals and fosters collaboration with other international partners from the USA, UK and Europe.
This partnership still has much to offer the Faculty's learning, teaching and caring communities, and new initiatives are already underway. In October a delegation of Tanzanian faculty and students will visit uOttawa, providing a new opportunity to share knowledge to improve global health in an intercultural context.
Learn more about Global Health and Internationalization at the Faculty of Medicine.
Support the Faculty of Medicine today!
Use the "Other designation" field on our online donation form to support The International and Global Health Initiatives Fund.