The Faculty of Arts presents each year the Awards of Excellence in Studies to recognize outstanding students within the Faculty of Arts.

These awards are a way to recognize and encourage excellence in undergraduate and graduate studies by celebrating those who have distinguished themselves not only academically, but also outside the classroom.
The Faculty of Arts is proud to announce the recipients for the year 2023.
Brooke Irene Morrow 
Brooke, an Ojibwe from Chippewa of Rama First Nation, has shown great perseverance when faced with adversity and has proven that they can succeed. Beyond their studies, Brooke has contributed to the University of Ottawa community as a volunteer with the Department of Theatre and as vice president of the Indigenous Students' Association. They have also tutored students in Anishinaabemowin, Indigenous arts and French.
Brooke has a strong artistic background. They have had a longstanding involvement in theatre, and have, during their undergraduate degree, begun the journey of reclaiming Indigenous artforms, which led to the opening of their business, Kigons Creations. Through this journey, Brooke has taught Indigenous beadwork and intends to continue in either the visual or contemporary arts master's program at uOttawa this fall.
Brooke is a strong student, an artist, a business owner and a dedicated, passionate contributor to their community.
Ian Soutar
Ian is in his final year of undergraduate studies in the Department of English. Although his interest lies in Canadian short stories, some incredible professors have instilled a passion for anti-patriarchal and anti-colonial scholarship in him, which led to his prize-winning essay for the UESA Crack the Canon scholarship. Between classes, he works on the editorial board of uOttawa's literary magazine, Common House, and he is a soloist in the University's acapella club, the Glee Gees. He also serves as president of the Green Party of Canada.
Jennifer Lee Dumoulin
Jennifer holds two graduate degrees: a Masters in communication (for which she was recommended for a thesis award from the Commission on Graduate Studies in the Humanities in 2011) and a Juris Doctor in law (from Queen's University in 2015).  She also successfully defended her PhD thesis in communication, titled "Stigma Isn't All Bad:  How Storytelling and Monster Metaphors in Anita Blake Challenge Existing Notions of Health-Related Stigma and Generate Productive Stigma Outcomes."
She has been a part-time professor as well since 2018, teaching at least 10 undergraduate courses. Highly involved in university life, she was a research assistant with the uOttawa Institutional Research and Impact Study (2020–2021), not to mention her work for the APTPUO (academic affairs committee 2019–2020; elected member of the bargaining committee 2021–2022).
Between 2018 and 2021, Jennifer was co-president of the Communication Graduate Students Association, which she represented at departmental and strategic communication committee meetings. Finally, this accomplished athlete (a U Sports Academic All-Canadian in 2017–2018) was also Vice-President (Community Outreach) of the Gee-Gees Student Athlete Council (2017–2019).
Jesse Toufexis
Jesse's dissertation, "Strangers in a Strange Land: Exploring the Narrative Realm of Jewish Literature," makes an important contribution to knowledge. Scholars of Jewish literature consistently ask what it means to "write Jewishly." "Strangers in a Strange Land"posits that eight short works of Jewish fiction by authors in different times and places construct a consistent narrative realm of possibilities. Using "possible worlds" literary theory, Dr. Toufexis argues that the narrative realm of these eight short stories is defined by liminal zones and liminal figures, marked most intensely by an implied porousness in the veil between the natural and the supernatural.
Jesse is well known to and highly regarded by established scholars in the field of Canadian Jewish studies. This is reflected in his role as vice president and conference chair of the Association for Canadian Jewish Studies, which he has held since 2017.
Jesse has also taught undergraduate courses on a part-time basis for several years. He takes great pride in his teaching, and especially values his interactions with his students, who in turn express their appreciation of his teaching style, his mentorship and his sympathetic nature.
Julia Skye Patriquin
Julia Skye Patriquin brings an exemplary attitude to her classes, which explains her excellent academic standing. She does the same in her community engagement. In addition to her outstanding grades, she also landed a position as a counsellor at the Tim Hortons Foundation's Camp des voyageurs in Quyon, Quebec. In fact, they offered her a higher position — program coordinator.  Her preparation through FLS 4776, a course on French and the workplace, combined with her community service learning experience as a teaching assistant at the Francojeunesse school, is certainly helping her build a great future.
Kate Smith
Kate is an exceptional student in every way, actively involved in the subject and with her classmates, with boundless rigour.
In addition to her success in the classroom, Kate attracts the best and brightest undergraduate students in the Department of Theatre, who continually seek out opportunities to work with her. She is highly praised for creating high quality artwork and actively engaging students in her processes. She is also a technical assistant for THE 1100B: Introduction to Theatre Practice. She runs three hands-on labs. Her ability to bring people together around difficult projects and share complex ideas is exceptional.
Beyond campus, Kate is already a theatrical powerhouse as the artistic director of her own award-winning company, Skeleton Key, which has received peer-reviewed funding for several years. Her work is respected by her colleagues and delights her audiences.
As a student, artist, technical assistant and leader, Kate Smith is the very definition of excellence.
Mary Stuart
Mary completed her Honours BA in environmental studies in December 2022. Throughout her time at uOttawa, she was very involved in environmental sustainability projects and activism on and off campus. She worked as coordinator of the Undergraduate Student Union Sustainability Centre, and then on various projects for the Department of Geography, Environment and Geomatics and the University's Office of Campus Sustainability.
Mary has organized with several local climate groups, including Climate Justice Ottawa. She is the co-founder of the Climate Justice uOttawa club and was one of the organizers of its fossil fuel divestment campaign. She now works as climate program coordinator for Community Associations for Environmental Sustainability, to support municipal environmental action.
Mary is excited to be starting her master's at the University of Victoria this fall and hopes that her research will help strengthen social movements for climate justice in Canada.
Mounira Khoris
The many awards Mounira Khoris has received over the past few years speak to her exceptional university career (scholarship, Gaston Héon fund, dean's list). Beyond her academic excellence and research potential, Mounira is very involved in the University community. She's currently vice president academic affairs for the Département de français students association, and regularly takes part in departmental activities, including the book club, which requires a major commitment. Her teaching experience is also considerable. She was a tutor in high school and a teaching assistant in university (in biology and literature).
Lastly, her extensive volunteer involvement, both in hospital settings and in the sports scene (equestrian sports and Pan-American Games), is also worth mentioning. Her energy, professionalism and interpersonal skills will be major assets in the master's program she plans to begin in the Département de français this fall.
Patrick Paradine
After four great years at the University of Ottawa, Patrick Paradine is graduating with a BMus in performance violin. He feels so grateful for having had the opportunity to pursue his passion for music while surrounded by a vibrant student community and a supportive faculty. In his time at the University, he has been presented with countless opportunities, including performing with the NAC Orchestra, acting as concertmaster of the University of Ottawa Orchestra and receiving first place in the university Chamber Music Competition.
Having received a quality education in many areas of music, Patrick has also developed an interest in the intersection between music, psychology and anthropology. In his career, he aspires to perform, research and educate, but above all, to use music to build a stronger sense of community and well-being in Canadian society. Thanks to the help and guidance of many mentors, including Yehonatan Berick, Timothy Chooi and Dinuk Wijeratne, Patrick has received full funding to pursue his studies in a Master's of Music program at McGill University.
Rachel Fay Miller
Rachel Fay Miller is graduating from the University of Ottawa this spring with a Joint Honours Bachelor of Arts in psychology and linguistics. She has had the honour of getting involved in the Department of Linguistics both as a student representative and researcher.
Rachel has been an executive of the Linguistics Students' Association (ADÉLSA) since 2021, taking on the role of interim president for the 2022–2023 academic year. As the sole remaining ADÉLSA executive member, she has gathered a team of eager linguistics students to ensure that student representation in the department will continue beyond her graduation.
Rachel will be continuing her studies in September in McGill University's Master of Science (Applied) program in communication sciences and disorders with a specialization in speech-language pathology. She hopes to expand access to free communication while advocating for representative, educated and non-biased acceptance of neurodiversity.
Rowan Moore
Rowan Moore is a fourth-year student at the University of Ottawa completing an Honours BA in History with the CO-OP option. A major contributor to departmental life, they regularly attend lectures with invited speakers and use their tireless energy to support their fellow students. A former editor of Clio, the journal published by the History Students' Association (HSA), their passion for history fuels their work in supporting and guiding their peers. Moore also served as president of the HSA in 2020–2021, during some of the most challenging moments of the pandemic, handling their responsibilities with tremendous grace and extraordinary generosity.
Rowan's research interests focus on cultural food histories, often at the intersection of topics like colonialism and media. They will finish their degree this spring and then go on to Dalhousie University for their Master of Information program. Hailing from Timmins, Ontario, Rowan often shares their fascination with Northern Ontario history with whomever will listen. They also manage to connect their intellectual interests to practical, tasty endeavours, as an avid baker of astonishing amounts of cookies.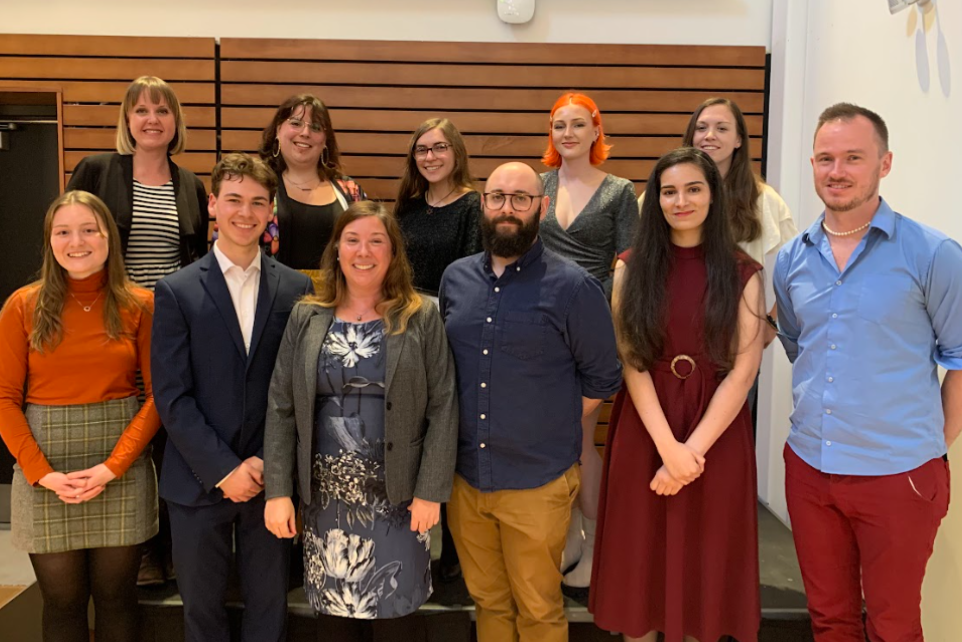 Congratulations to all recipients!