Meet Katerine Delev, captain of the Gee-Gees women's soccer team, student in the Faculty of Education's Formation à l'enseignement program and future math teacher. In this conversation, she talks about her hopes, aspirations, and the impact of soccer on her university experience.
'Brilliant' is certainly a fitting word to describe Delev`s athletic career. With her teammates, she succeeded in winning two gold medals, the first at the University World Cup in China in 2019 and the second at the FISU America Games in Mexico in 2022, defeating Brazil.  She also played in Italy with U.S. Lecce for a year while taking distance courses.  Her most recent accomplishment as the Gee-Gees women's team captain was during the U Sports national championship this past November at l`Université Laval in Quebec City. The club finished third, and she was named player of the game in the 3-0 bronze medal victory match against the Cape Breton Capers.
Here is what she had to say about her years on the field, why she chose to become a teacher, and her plans to pursue graduate studies. 
What did you think of this season? Was it different from previous seasons? 
I would say we had a very good season, we had our ups and downs, namely a loss in the second game to the University of Toronto (a first in many years), but we managed to stay together and build bonds as a team both on the field and in the locker room. We also learned to lose, which is an important thing in sports.  It made a big difference compared to previous years and let us win a provincial championship and finish third in the national championship.  
How has soccer changed your life these past few years?  
First, soccer is my passion. Soccer has given me friendships and allowed me to push my limits. I've formed bonds with many teammates, people I can speak to when I have problems at school, for example. I also have a leadership role on my team. I'm seen as a person the girls can talk to and, especially, with whom they can laugh. This has made my university experience engaging and let me develop many skills, such as time management and applying myself in everything I do.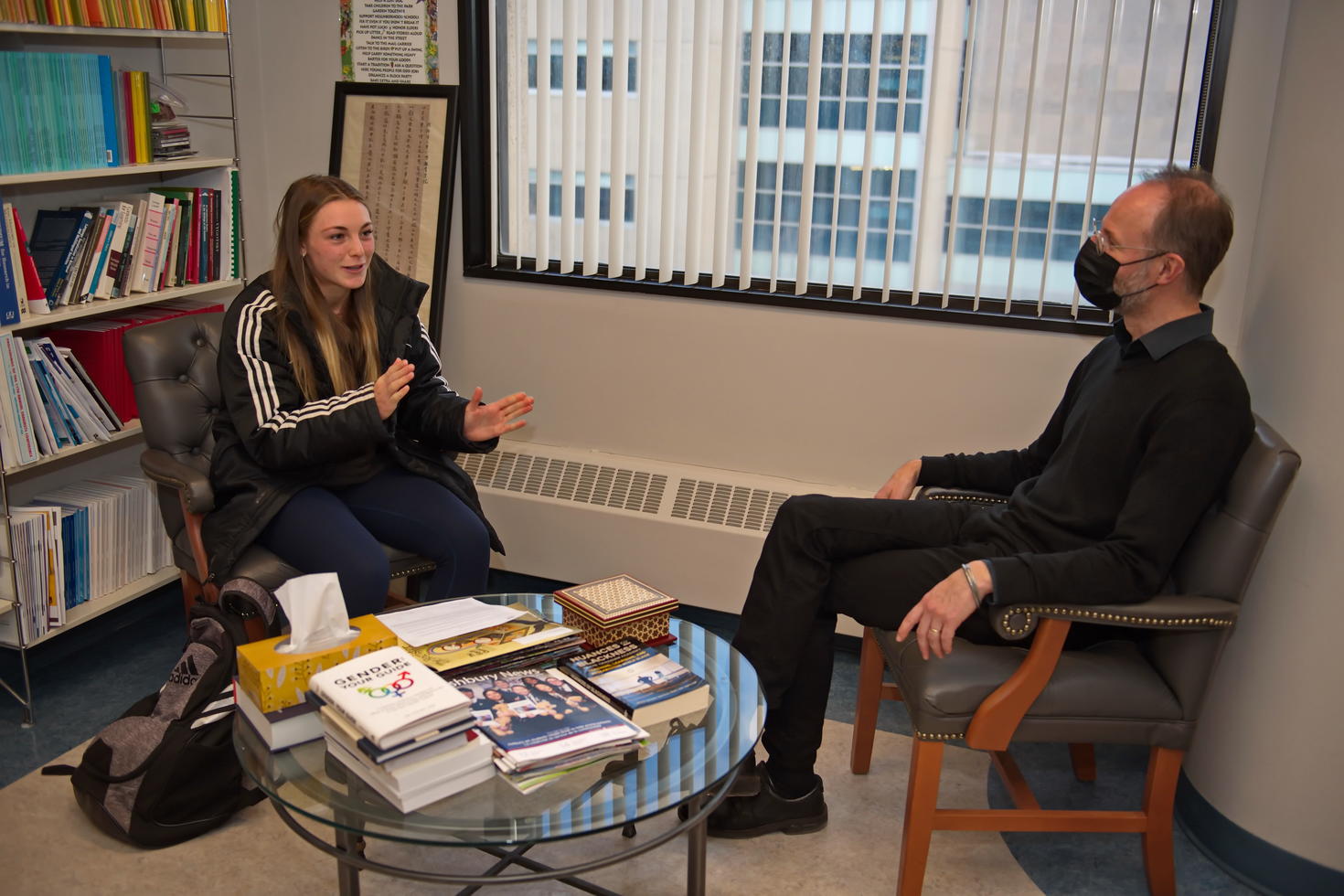 How would you describe your experience in the Faculty of Education?   
I think what I like most about the Faculty of Education is that people are really approachable. We work a lot as a team, and it seems like I could be with anyone and I'm sure the work would be done well and in a pleasant environment.  
Why did you choose teacher education? 
I chose teaching mainly because I love working with children. I've tutored for many years, and I like the interaction and trust I have with the students. I also like that every day is active and different. I'm very passionate about mathematics and I know that many youngsters dislike this subject, so I'd like to really share my knowledge while making the courses interesting. 
Given the shortage of teachers in French-language schools in Ontario, what advice would you give to future students who would like to become teachers?  
We know that French is a minority language in Ontario. I find it rewarding to be able to work in this setting and to keep French alive in the province. So, I encourage future students who want to become teachers to do their training in French, to help the language survive. As well, it's very encouraging, because we know that when we graduate, there's a good chance to get hired because there's a big demand for francophone teachers.  
After university, what's next for Katerine Delev?  
I'd like to continue my soccer career. I played professionally for a year in Italy, and I'd like to return to Europe for a few years, so long as my body allows. I'd also like to do my master's remotely at the same time. After all these years, I'd like to find a position in Ontario. At the moment, I have a thing for sixth graders thanks to my practicum, but I'd like to teach high school mathematics.