Benoit Lessard is first uOttawa prof to win Canadian Journal of Chemical Engineering Lectureship Award.
Imagine a sensor integrated to a shirt that helps detect disease markers for at-risk individuals. Or a phone as flexible as a piece of paper that you could fold up and place in your pocket. These are just some of the groundbreaking applications that the carbon-based electronics and sensors developed by leading-edge researcher Benoit Lessard could lead to.  
Lessard's innovative thinking and collaborative endeavours have been recognized, as he was recently awarded the 2022 Canadian Journal of Chemical Engineering Lectureship Award, which is given to someone who has made an "outstanding contribution to chemical engineering, demonstrating exceptional promise, while working in Canada." 
He is the first researcher at the University of Ottawa to receive this award.
An accomplished young researcher 
As a professor in the Department of Chemical and Biological Engineering at the University of Ottawa, Lessard established the Lessard Research Group when he joined the faculty in 2015. In 2019, he became an Associate Professor and continued to make a name for himself by focusing his research on the use of carbon-based technologies in next generation applications such as organic electronic devices.  
Lessard is holder of the Canada Research Chair in Advanced Polymer Materials and Organic Electronics. He has published 123 peer-reviewed journal articles, has completed 15 patent applications, and co-founded a company based on his research. 
He also won the 2021 CSChE Innovation Award from the Canadian Journal of Chemical Engineering, which is presented to researchers under the age of 40 who have made a major contribution to the field of chemical engineering, and he was awarded the 2021 Early Career Researcher of the Year Award, offered by the Office of the Vice-President, Research and Innovation at uOttawa, which highlights research excellence in young professors. 
Accessible and affordable technologies 
Access to electronics and life-saving devices can be limited due to the increased costs associated with the technology. Conventional electronics rely on energy-intensive, high-temperature manufacturing silicon chips, which are brittle and relatively expensive.  
Lessard's research seeks to find ways to reduce these costs by repurposing carbon-based molecules, which are used as low-cost dyes and pigments in our daily life. Low-cost materials, low-temperature processing and reduced energy intensive processes open the door to low-cost, flexible, and bendable electronics which can be printed on plastics and textiles.
Limitless applications of thin wearable electronics  
The Lessard Research Group focuses on developing carbon-based thin film electronics that range from flexible electronics to highly selective sensors. These thin film electronics can lead to innovative and promising futuristic applications. 
"This technology can be used in foldable tablet devices and in flexible and portable solar panels," says Lessard. "It can even be used as electronic skin on noses or tongues to detect early disease biomarkers in our sweat or different toxic environmental gases and foodborne contaminants. For example, carbon-based biosensors can be integrated to sports clothing and could be used to monitor athletes' hydration levels to provide maximum performance." he says. 
Lessard has also used this technology in the creation of sensors that detect cannabinoids, the active molecules in cannabis. He cofounded Ekidna Sensing in 2019, which develops rapid tests for licensed cannabis producers to complete fast, accurate, and decentralized testing of cannabis samples for key potency markers such as THC and CBD. Ekidna Sensing is currently selling these sensors to Canadian cannabis growers and producers.
Aligning research with industry needs 
In winning the award, Lessard was recognized for not only his accomplishments and contributions, but also for bridging the gap between industry and academia. 
"We work closely with businesses to manufacture new consumer products that use these technologies and that will have a positive impact." explains Lessard. 
Due to the nature of working with prototype designs, Lessard notes that he often does not work with the end users of the products, but rather with manufacturers across Ontario to understand their needs and processes.  
Lessard and his team are collaborating with Ottawa-based tech company GBatteries, in improving next generation batteries. GBatteries has produced the first tested ultra-fast charge lithium-ion battery in vehicles. This technology will allow for electric vehicles to charge within minutes rather than hours, without compromising the longevity of battery life or vehicle safety. 
Collaboration leads to innovation 
As researchers seek to address the growing need for change in society, academic research continues to adapt and collaborate. Scientific research is increasingly relying on collaborations to address complex real-world problems.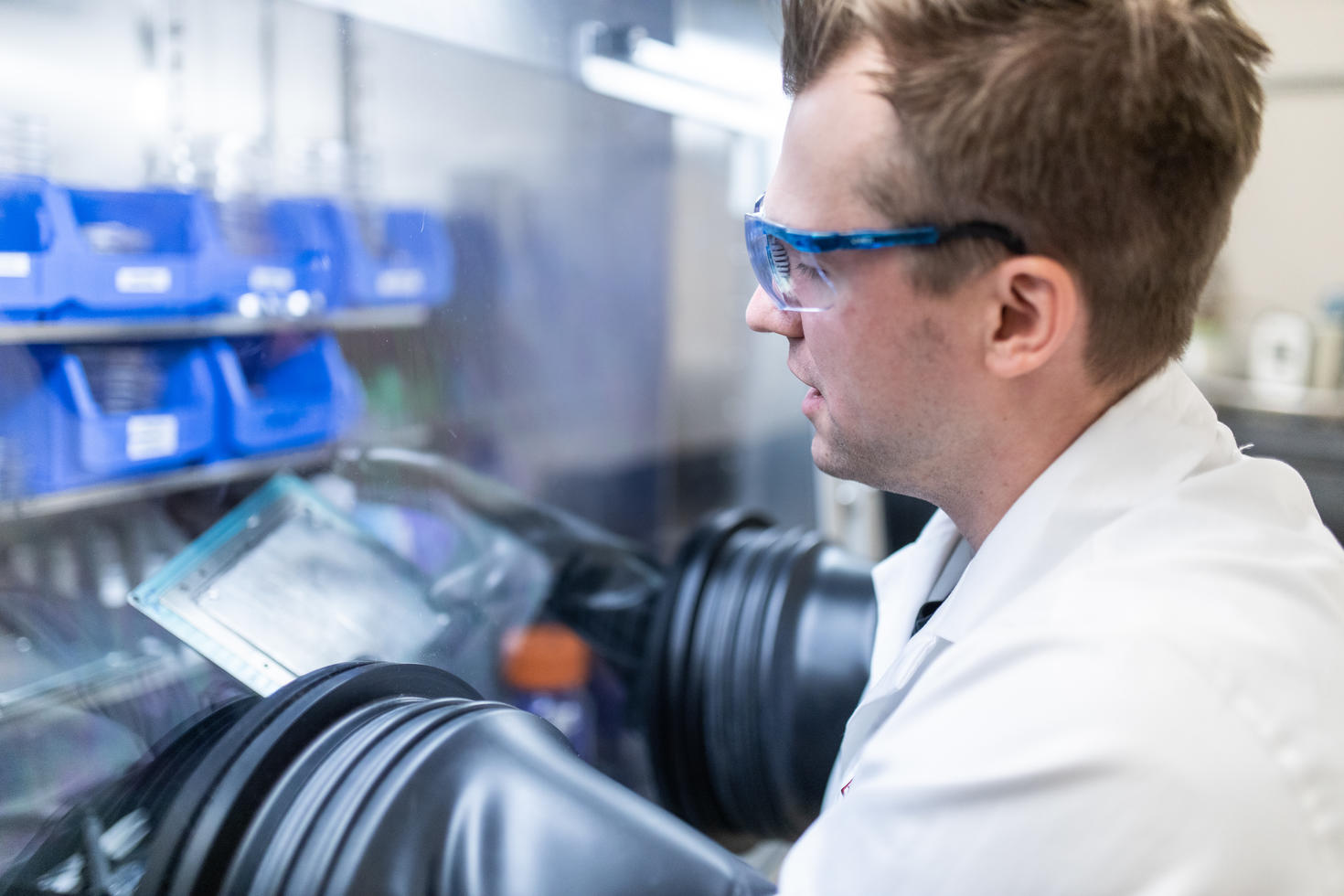 "My research is becoming more and more multidisciplinary, and there is a growing need to collaborate with others."
Professor Benoit Lessard
As the 2022 ambassador for the Canadian Journal of Chemical Engineering, Lessard will be attending a speaking tour in three cities across North America, giving him the opportunity to share his research and meet with other leading researchers to find new opportunities for innovative applications in the future for life-saving technologies.