On October 10, the University honoured the memory and legacy of Louise McEntyre West, a distinguished graduate of the School of Nursing who died in 2015.
Her brother John McEntyre (BASc '65, MASc '69), sister Lynn McEntyre Comerford (BSc '65), family friends, and members of the University community gathered to celebrate the opening of the Louise McEntyre West Nursing Simulation and Peer Mentorship Centre and the Louise McEntyre Lounge in the new Health Sciences Building on the Lees Avenue.  
John and Lynn said that their generous gifts in support of current and future nursing students are a fitting tribute to their remarkable sister. 
"My sister Louise was a special person. After nearly being killed in a car accident, she felt the purpose of her life was to help others. She died far too young from ALS. This centre is a fitting tribute to her memory because it will help future generations of nurses in their education and training," said John. 
The car accident was a sad chapter in the University's history.  
The uOttawa community rallied in support
On Christmas Eve 1965, Louise, Lynn and Jock Turcot, who was president of the student association,  delayed their travel plans so they could attend a Christmas Eve mass with international students who were not able to return home for the holidays. 
Louise was heavily involved in student politics. She and Turcot were also romantic partners who were planning to spend their lives together. 
"They were soulmates," says John. 
The three left for Montreal the next morning with the car packed with presents for Turcot's ten younger siblings. He would drop the McEntyre sisters with family in Montreal and then continue to his home further north. 
The roads were icy.  When their car crashed into a truck on Highway 17, Turcot was killed instantly. Louise was thrown from the car into a snowbank and seriously injured. The first responders thought she had died. But Lynn, who was protected from serious injury by the presents in the back seat, noticed her sister make the smallest of movements. She was still alive. The ambulance took Louise to the closest hospital, fearing she wouldn't make it if they tried to get to Montreal. 
Later, it was John who told Louise the terrible news that Turcot had not survived. 
"She couldn't understand why he had died and she had survived. She said that God must have had a reason and that the purpose of her life would be to help others."  
The campus mourned the death of Turcot, a law student who had been touted as a future prime minister. Louise, grieving the loss of the man she had expected to marry, was stuck in a body cast and confined to her bed for months.  
She was able to finish her degree thanks to the loyal friends and classmates who came to her bedside every day for months to help her keep up with her studies. She graduated in 1967 and went on to enjoy a long and fulfilling career, including a stint as a lecturer and clinical instructor at the School of Nursing in the 1970s and as assistant head nurse of gynecology at UCLA. She married Robert West and had two daughters, Michèle and Caroline. Her daughters attended the opening of the centre and lounge, along with Louise's four grandchildren: Andrew, Isla, Ben and Will. 
Lynn wanted to support a student lounge because she feels so strongly that friendship and a sense of belonging are critical to the student experience.  
"Louise might not have become a nurse without their help and this sense of community." 
The McEntyre family gives back
John already donates to the Faculty of Engineering, where he generously supports the John McEntyre Team Space in the STEM building. His gift helps student teams build rockets, underwater robots, and energy-efficient cars to compete in national and international competitions. 
The Nursing Simulation and Peer Mentorship Centre is also about hands-on learning.  It's where nursing students practise their skills and learn through simulations with lifelike manikins that can bleed, breath and vocalize.  Simulation learning combines complex scenarios and the latest technology.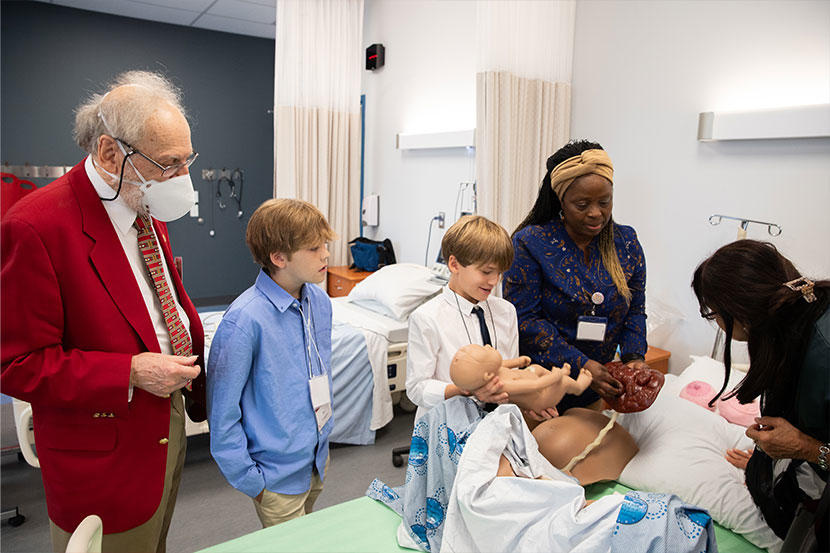 The Centre also develops innovative, research-informed simulation pedagogies to train future health-care professionals, both in Canada and around the world.  
 "The University and the Faculty of Health Sciences are profoundly grateful to John McEntyre, Lynn McEntyre Comerford, Robert West, Michèle West Lindgren and Caroline West for their support," said Dean Lucie Thibault. "This year marks the 90th anniversary of the School of Nursing, and this gift contributes greatly in preparing future nurses to offer quality care and assume leadership roles in the healthcare system," says Thibault. 
Nursing education has changed dramatically since Louise was a student; the technology and learning methods have improved greatly. However, one element has remained constant: nursing is fundamentally about people caring for people. Nurses have always enhanced the health and lives of their patients, and as the environment in which they need to perform evolves, this transformative gift is helping us to reIMAGINE training that gives our graduates the experience they need to succeed.