At uOttawa, we have a vision to enhance our competitive edge in medical research.
These are dynamic, exciting times for medicine. There's a remarkable acceleration in the pace of scientific discovery and technology-driven innovations. Biomedical advances in the 21st-century offer almost limitless possibilities for medical breakthroughs and discoveries that can dramatically improve the wellbeing of our communities and make a positive impact on millions of lives.
Ambitious new investments are imperative to equip our world-class researchers and health ecosystem partners with the infrastructure necessary to harness this incredible potential and thrive on the global stage for many years to come.
At uOttawa, we have a bold vision to enhance our competitive edge. The Advanced Medical Research Centre (AMRC) – the largest single investment in our history – will be a hotbed of interdisciplinary innovation focused on improving human health. The groundbreaking work done within the walls of this 350,000+ square-foot complex will dramatically boost our national and international profile.
There's still great potential for the AMRC vision to grow.
Industry partners and donors will play a vital role in making this vision a reality. By supporting the AMRC, you will directly help advance innovations in biomedical research, improve patient outcomes and strengthen the student experience.
Dr. Bernard Jasmin, dean of the Faculty of Medicine, can't wait for this sophisticated new workhorse of a building to open its doors on the Alta Vista campus.
"This state-of-the art new facility will allow our researchers to forge new collaborations that can impact national and international health care in ways that have never been possible before," Dr. Jasmin says. "It will truly be transformative."
Think about the potential: Building on the Faculty of Medicine's nation-leading growth in research intensity and funding, the gleaming new centre will be home to dozens of medical laboratories, core facilities and other critical infrastructure to support innovation research, education, and commercialization initiatives.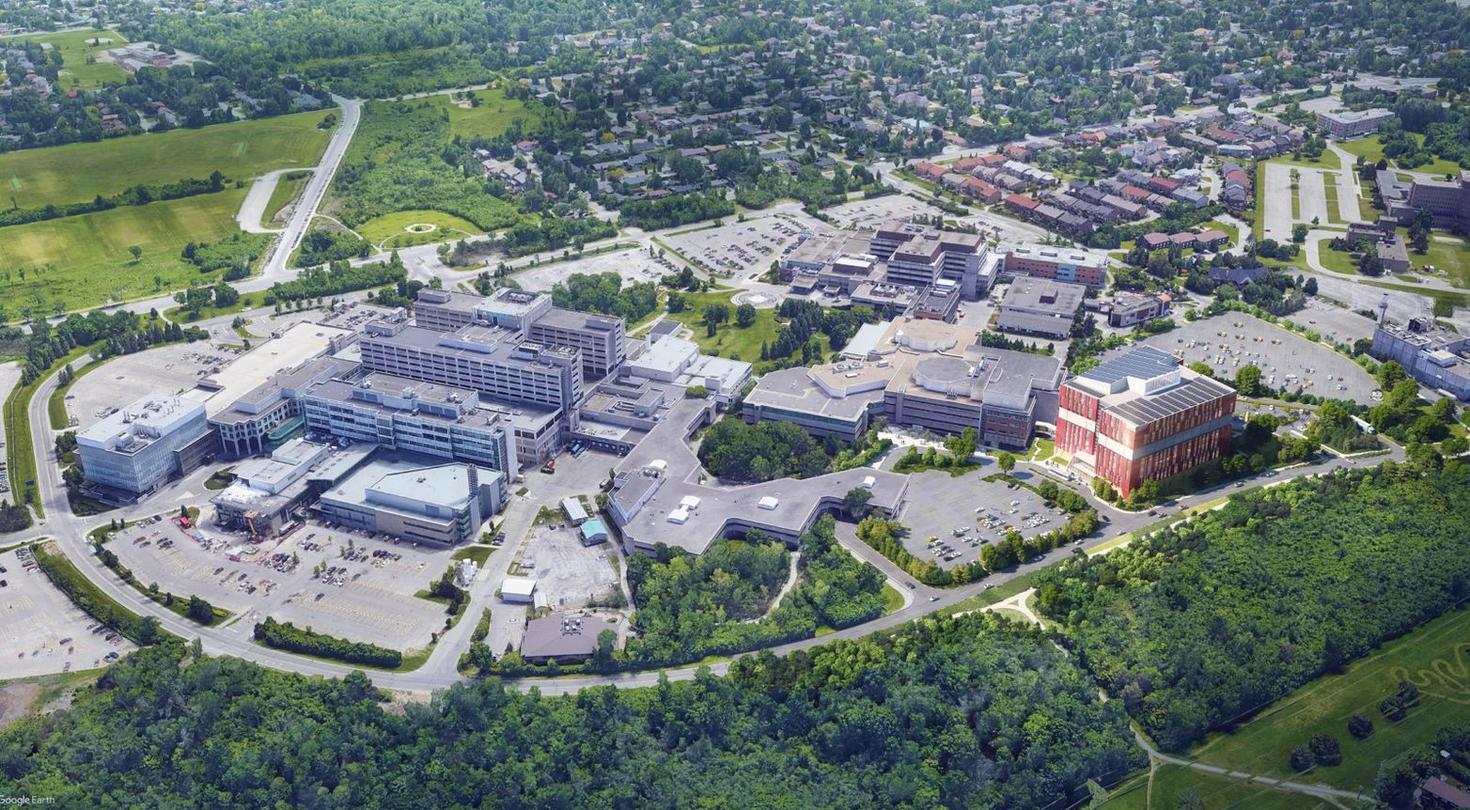 It will feature the Ottawa Health Innovation Hub, a key strategic initiative that will give a major leg up to our broad research community's entrepreneurs. There will be R&D facilities, discovery and translational research floors, and on-site incubation and accelerator facilities. "We've got discoveries to make, jobs to create, a recovery to fuel and the AMRC and the Hub is bringing together the hearts and minds to make it all a reality", said Sylvain Charbonneau, Vice-President Research and Innovation, who is leading this major initiative for the University of Ottawa. 
New therapies developed, companies spun off, scientific mysteries revealed. In years to come, there will be no shortage of biomedical breakthroughs and forward-thinking applications created at the AMRC.
Plans for this once-in-a-generation investment are swiftly ramping up. Here's a couple of timeline details: A request for proposals seeking a design and development team is slated to be issued in June. The complex is tentatively scheduled to open its doors in spring 2026.
The vision is for AMRC to serve as a catalyst for big-impact collaborative research and draw the most talented researchers, PhD students and postdoctoral fellows. Attracting top talent and creating global visibility will be greatly helped by its primacy of location in Ottawa, where our interdisciplinary teams will benefit from proximity to and close collaboration with government agencies, private industry leaders, and supportive partners in world-class academic health centres and affiliated hospitals. Ottawa is where today's discoveries become tomorrow's national standards of care.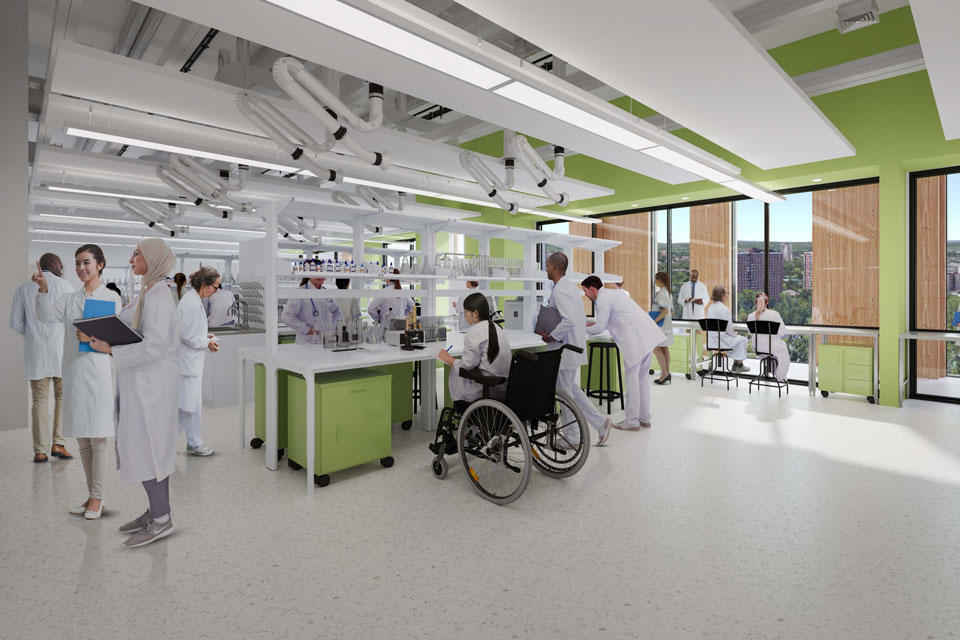 The pool of potential and eager occupants is growing rapidly. In recent days, funding for two high-profile national research initiatives slated to be based at the new building have been publicly announced to great excitement: The CanadianPandemic Preparedness Hub(CP2H)and the Brain-Heart Interconnectome (BHI).
Dr. John Bell, a pioneer in cancer therapeutics who is a full professor at the uOttawa Faculty of Medicine and a senior scientist at The Ottawa Hospital, is the scientific co-director of the CP2H. He says the AMRC will be a game changer for the hub, offering a unique network that will enable Canada to become internationally competitive in the translation of novel biotherapeutic discoveries and novel pandemic solutions.
"Our Canadian Pandemic Preparedness Hub integrates biomanufacturing with research scientists and clinicians to rapidly move innovative research discoveries out of the lab and into human clinical testing and ultimately commercialization. The AMRC provides a critical nidus to foster these types of interdisciplinary activities," Dr. Bell says.
Dr. Mary-Ellen Harper, another of our globally recognized scientists, anticipates that the new building will provide spaces where "basic scientists will meet formally and informally with clinician researchers, computational biologists, and government-based and industrial research partners" to achieve an exciting new dynamic.
Indeed, the AMRC is about far more than concrete and rebar. It's about creating the best collaborative environment for making research and innovation breakthroughs at one of Canada's leading research-intensive institutions.
"Beyond just expanded laboratory space and the latest technology to continue to do what we do, we are now able to envision how the research conducted within the Faculty will be supported by new state-of-the-art core facilities, and how we will work closely with industry and other partners under one roof," says Dr. Katey Rayner, the Faculty's Assistant Dean for Research and Special Projects.
If you are interested in having a significant impact on our strategic research and supporting the creation of new models of innovation that empower uOttawa's researchers, clinicians and learners, we'd like to hear from you.
Consider supporting the Advanced Medical Research Centre.
For inquiries, please contact Jonathan Bodden [email protected], Executive Director, Corporate Relations.  Tel:  (613) 614-3571