Four Faculty of Engineering students are one step closer to seeing their business idea come to life. After winning the 2022 Entrepreneurial Idea Competition, they are going home with funds to invest in their start-up dreams.
On October 17, 2022, students competed at the finale of the Entrepreneurial Idea Competition. The competition encourages students to seek feasible solutions for realistic issues and rewards those who show aspirations and exceptional capabilities for turning their ideas into prolific business models. 
Among the applications, six finalists were selected to pitch their entrepreneurial models, three of whom were awarded prizes.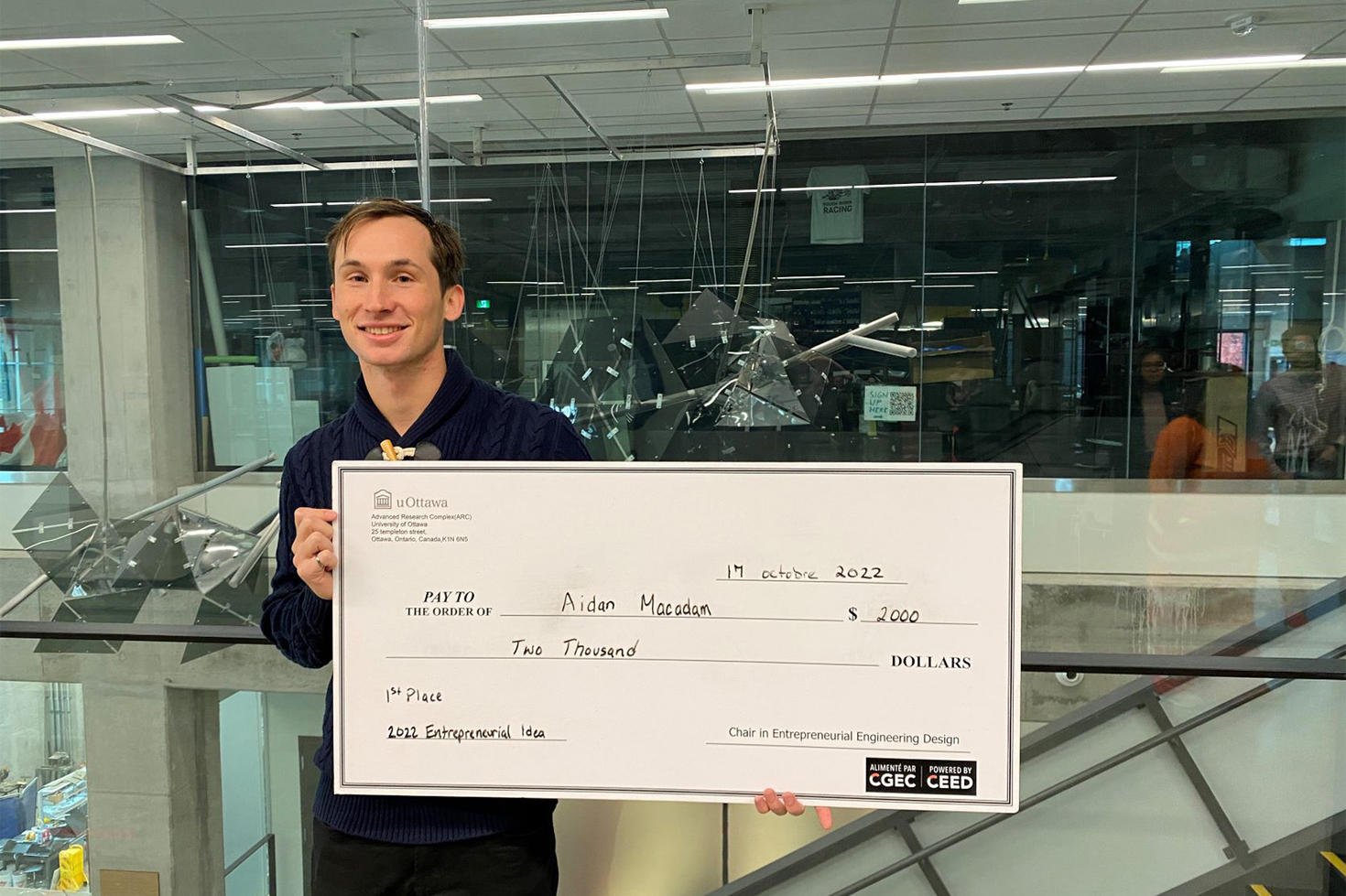 First place: Aidan MacAdam and Davis MacAdam, Gastrotrack
Victory went to developers of the Gastrotrack, a mobile application which helps to monitor gastrointestinal activities and health. The idea was pitched by Aidan and Davis MacAdam, whose business model is based on helping individuals who experience strange bowel symptoms. The application is designed to give private self-assessed diagnoses for users by detecting trigger foods consumed and analyzing stool consistency, size and colour.
For Aidan, co-founder of Gastrotrack and a biomedical researcher at uOttawa, the ultimate goal is to encourage patients to seek treatment from a specialist. He says that the Gastrotrack can help to lessen complications in getting diagnosed for sensitive bowel problems.
The Gastrotrack app is being developed by Aidan and his brother, Davis, who is pursuing a bachelor's degree of engineering in electrical and electronics engineering at Carleton University. The brothers say that while the prize offers money to develop the application, the judges' feedback and the opportunity to pitch the idea in front of Aidan's peers was also valuable in the latter's entrepreneurship journey.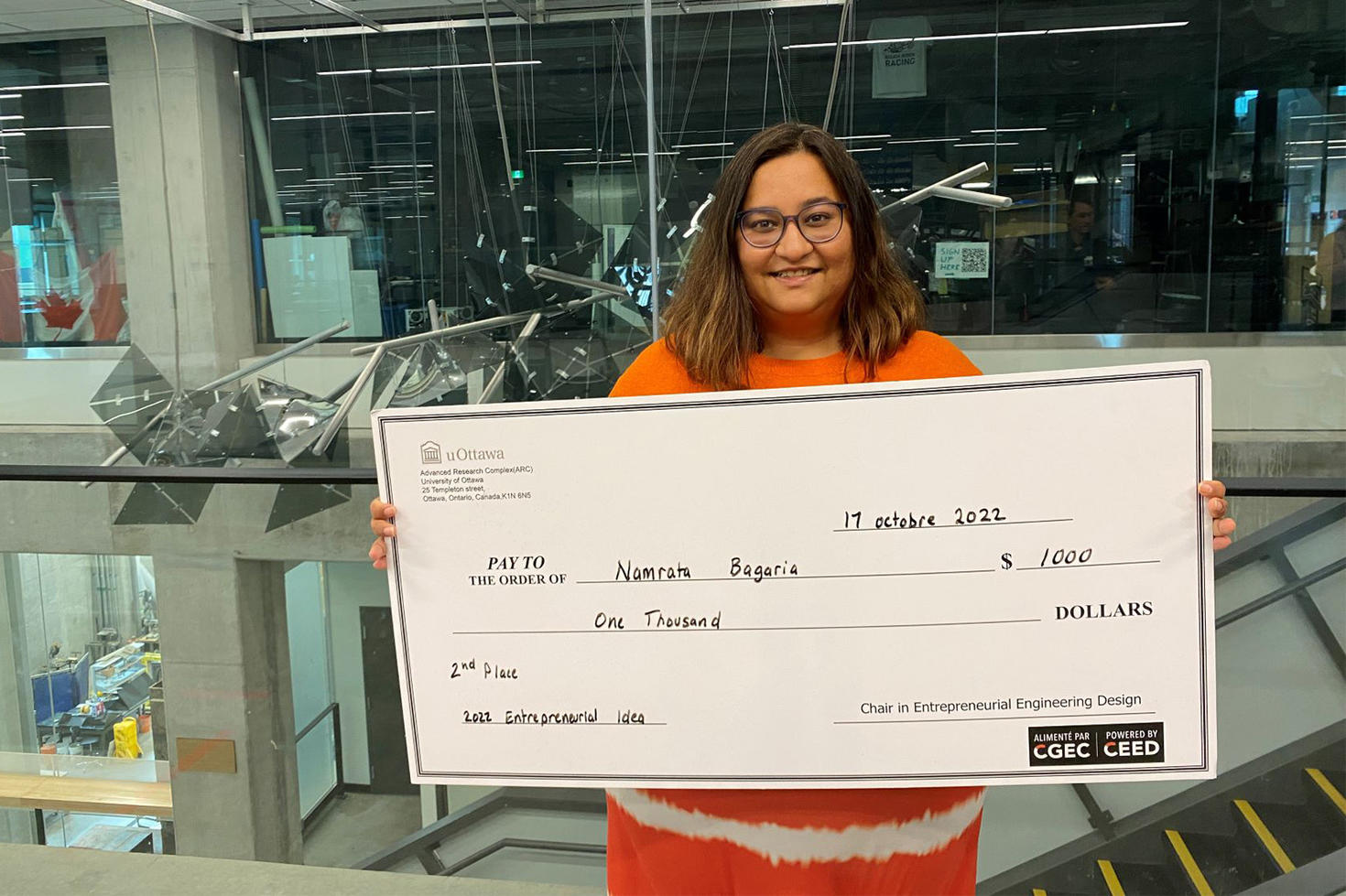 Second place: Namrata Bagaria, Seniors Junction
Second place went to Namrata Bagaria, a doctoral candidate in the multidisciplinary Digital Transformation and Innovation program. She aims to address the adverse impact of mandatory isolation brought on by the COVID-19 pandemic on vulnerable individuals, especially the elder population.
Namrata has developed a business model enabling senior citizens to embark on a journey in which they find new life purpose during retirement. Their website offers live lectures where participants can discuss and learn about new subjects. Not only does the platform aim to mitigate the negative impact of social distancing during and post pandemic on senior citizens, but it also diversifies perspectives about arts, which can amplify the knowledge and experiences of lecturers and researchers about art topics. Namrata plans to use her prize to increase revenues tenfold by the end of April 2023.
Third place: Pierre Akladios, Health Check-In
 
Third place went to Pierre Akladios, who developed and launched Health Check-in, a mobile application that reminds patients of doctors' instructions when preparing for surgeries. Pierre wanted to help save millions of dollars every year on missed surgeries due to poor preparation. Both the Health Check-in app and website are available in English and French for Canadians. Pierre says that the prize will be used to further develop the app and the website to make them available in more languages.
A common goal
These promising young businesses have one thing in common: our students are making health and wellness an integral part of our future. Using their aptitudes for technology, they make health information more accessible, they address both physical and mental wellbeing, and they promote an overall healthy relationship with both our mind and our body.
 
The winners of this year's Entrepreneurial Idea Competition show how students at the Faculty of Engineering are dedicated to seeking root causes of problems and finding answers.
About the Entrepreneurial Idea Competition
 
The competition is organized yearly to inspire engineering students at University of Ottawa with entrepreneurial mindsets to plan and operate business models based on solutions for current persistent issues. It is an integral part of the Faculty of Engineering's entrepreneurial ecosystem.