This fall, the Faculty of Medicine is launching its new undergraduate doctor of pharmacy program, taught solely in French. For the first time, Francophones in Canada wishing to become pharmacists can study in French outside Quebec.

The new program, whose first cohort consists of students from Ontario, Quebec and New Brunswick, is already generating considerable interest across Canada. In its first year, the program received five times more applications than available places. To meet the strong demand, the University of Ottawa is planning to open the program up to more students in the future. 
"I chose the program because it's offered in French, and I want to gain the knowledge and skills I need to serve my Francophone community." ― Simon Plenderleith, a student in the undergraduate doctor of pharmacy program at the University of Ottawa 
Cutting-edge health education to produce front-line professionals 
The program's popularity reflects the growing shortage of pharmacists in Francophone communities across the country. It is estimated that by 2026, more than 750 French-speaking pharmacists will be needed in Canada outside Quebec. 
"Our government is proud to support Canada's first French-language undergraduate Doctor of Pharmacy program, outside of Quebec, at the University of Ottawa. By supporting French-speaking Ontarians' continued access to high-quality education, we're helping to train a skilled, bilingual workforce that will ensure Ontarians can access exceptional health care in the language of their choice. " ―  Jill Dunlop, Minister of Colleges and Universities
Pharmacists' scope of practice has grown continuously over the years, to the point where they have become a front-line health service. Pharmacists can now prescribe treatments for minor health ailments, provide certain kinds of emergency treatment, administer vaccinations and order lab tests, depending on the province where they are practising. 
The pharmacy program, based on best practices in education, is focused on active and experiential instruction (internships, labs, workshops) and on the development of transversal skills that practising pharmacists need. The program prepares students for careers in the community, in hospitals and clinics, in academic research institutes and in the pharmaceutical industry.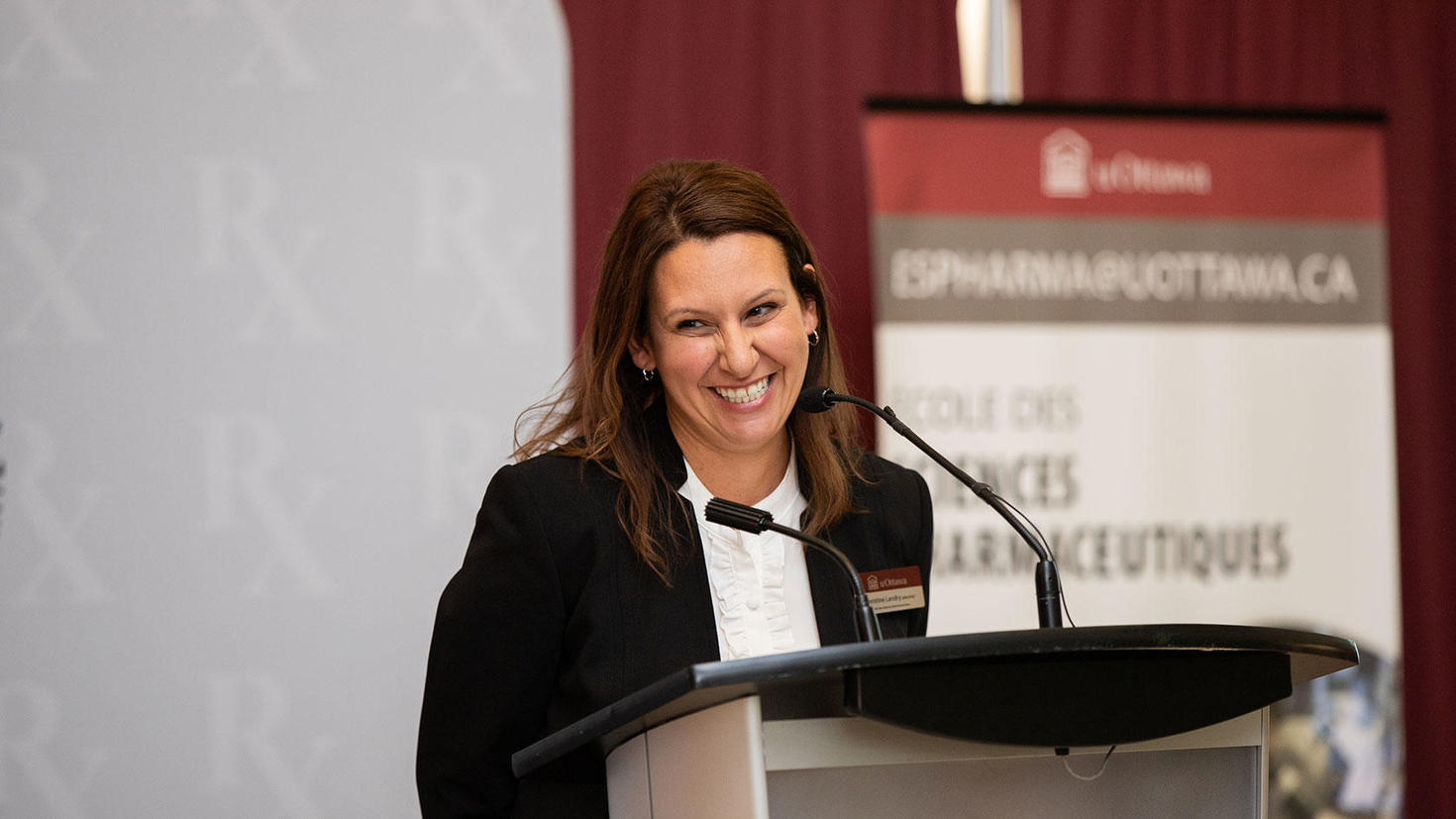 "The program was built from scratch. We took cutting-edge practices in education and the latest data to tailor the program to today's learners."
Christine Landry
— Pharmacist, assistant professor and director of the University of Ottawa's pharmacy program.
"Instead of passive learning where all students do is attend lectures and memorize information, our focus is on active and participatory learning, which improves retention of the material. Students prepare before class so they're ready to engage in their learning in class. They then apply what they've learned before they start their clinical internships." ― Christine Landry, pharmacist, assistant professor and director of the University of Ottawa's pharmacy program. 
The program is taught in state-of-the-art facilities at the University of Ottawa's new School of Pharmaceutical Sciences in the Faculty of Medicine, located near the Advanced Medical Research Centre—a future pillar of medical research in Canada whose construction is slated to begin in December. 
The School is also planning to establish graduate programs in order to train the next generations of scientists in the fields of pharmaceutical sciences and clinical sciences in pharmacy. 
 As a major hub for health research and education in Canada, the University of Ottawa trains most bilingual health professionals in Ontario. It also intends to work with health-care institutions, including Montfort Hospital, to provide future pharmacists with experiential learning opportunities. 
"It's important that we train the next generation of French-speaking pharmacists, not only for the Ottawa area and French-speaking Ontario, but also for French-speaking Canada as a whole. It could be a weak link in the health sector, with a real shortage of pharmacists being reported by communities that are struggling." ― Dominic Giroux, CEO, Montfort Hospital.