From learning about women's history to promoting active aging and ending referee abuse in soccer, new funding for projects by Faculty of Education researchers will support the study of numerous pressing issues of our day.
"This funding is a recognition of our professors' expertise and vision in addressing current and emergent societal challenges," says Professor Jess Whitley, vice-dean, research and professional development, in the Faculty of Education. "We congratulate this year's recipients, who are leading numerous national and international initiatives. Their projects will expand knowledge in education research and help develop practical solutions for our many partners." 
Building robust civic and community collaboration is a guiding principle of our research. As a Faculty community, we are committed to strengthening relationships and to working together towards more equitable futures.  These diverse studies reflect the wide range of research conducted by our professors – and the expertise and vision they bring to our Faculty. Congratulations to each of them on their success!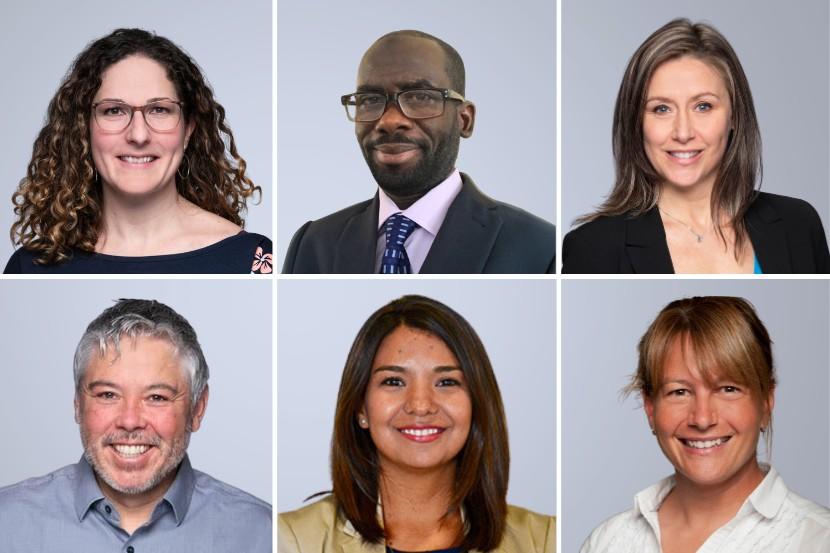 Our professors are working across a range of disciplines. Learn more about their latest projects:
Framing Our Past: Teaching and learning about Canadian women's history 
Marie-Hélène Brunet (Social Sciences and Humanities Research Council, Partnership Engage Grant) 
At its height, the #MeToo movement pushed the issues of gender and social justice to the forefront of public conversations, though attention to these issues in classroom discussions is often superficial. Teaching about women's history, particularly that of First Nations, Inuit, Métis and racialized women, is lacking. Learning about these histories has the potential to foster more in-depth student reflection on gender inequities. This funding will support research based on the design and evaluation (by teachers and experts in the field) of teaching resources created for educators and the Canadian public through a partnership between the Faculty of Education and Canada's History Society. 

 
Connecting refugee students to online higher education opportunities in Niger  
El Hadji Yaya Koné (Social Sciences and Humanities Research Council, Partnership Engage Grant) 
Education is a fundamental human right, yet refugees often experience significant barriers to accessing higher education in host countries. This exclusion affects employability, contributions to post-conflict reconstruction, and student motivation. This research will examine national policy on access to universities, training opportunities, and virtual teaching practices in Niger.  Working with the Connected Learning in Crisis Consortium (CLCC), a core objective will be to evaluate the potential development of digital learning hubs, combining pedagogy and technology with humanitarian and development activities. These hubs will be accessible, inclusive, and rooted in local realities. They will focus on academic content linked to the development of cross-curricular 21st-century skills, supporting local NGOs and refugee students' life goals. 


The InterActive for Life and International Council on Active Aging partnership project: A Function2Flow inquiry into joy and active aging education 
Rebecca J. Lloyd (Social Sciences and Humanities Research Council, Partnership Development Grant) 
Aging populations across the globe mean there is an increasing need to understand factors that contribute to later-life wellness. Redirecting the focus from fear of chronic disease towards joy and interpersonal connection as motivators for improving physical activity, this research is premised on learning from senior living communities known for their holistic health promotion. Objectives of this collaborative education project with the International Council on Active Aging include the translation of findings into practical resources and building knowledge-sharing partnerships with ministries of education to encourage activity throughout the human lifespan. 


Addressing racisms and anti-racisms in science and teacher education research 
Nicholas Ng-A-Fook, (Social Sciences and Humanities Research Council/Ontario Genomics, Knowledge Synthesis Grants: Shifting Dynamics of Privilege and Marginalization) 
Advancements in genomics have opened endless possibilities for responding to human suffering, but the science has a troubled and pernicious history with its origins in the invention of "race." Opportunities for teachers and students to learn about these social and cultural dimensions of genomics are limited. Worse, there is evidence that typical teaching may foster problematic beliefs by not paying attention to how science education intersects with ideas about race and racism. This research will explore how to best prepare future science teachers to engage in critical thinking and to put anti-racist education strategies to work in the classroom. 


Mobilizing knowledge and developing skills in mathematics learning assessment: Professional development for future teachers 
Carolina Ruminot (Office of the Vice-President, Research and Innovation, Research Development Program) 
What are the challenges new teachers face when it comes to evaluating student learning? Modern teaching requires educators to use varied assessment practices in their classrooms, although the need to diversify methods can pose hurdles for new teachers. This collaborative research with candidates from the Faculty's Formation à l'enseignement program will provide a deeper understanding of participants' knowledge of mathematics evaluation. Supporting teachers' professional development is crucial for improving assessment practices in order to meet students' needs and promote learning. 


A tolerated intolerable: A longitudinal examination of soccer referee abuse in Canada and its impact on health 
Tracy Vaillancourt (Safe Sport Research Grant Program, Sport Dispute Resolution Centre of Canada) 
The abuse of referees—from shouting and berating to physical threats and assaults—is a serious problem in Canada and around the world. In any other context, this type of behaviour would be called what it is—workplace violence. But, in sports, it is "part of the game," a tolerated intolerable. This research will examine the influence of exposure to workplace violence, taking into consideration the impact of the interaction of race, ethnicity, gender, workplace atmosphere, and provincial policies on health outcomes among 1,200 soccer referees. Findings will help guide policy development and interventions to protect match officials, with application in all Canadian sports.