Semiconductors might not be the most visible to most of us, but they play a huge role in our daily lives and are increasingly in demand. However, since the COVID pandemic, sourcing these critical electronic components has been increasingly difficult. Faced with a global semiconductor shortage, Canada, the United States, and Mexico decided to collaborate, with governments, industry, and academia joining forces to strengthen semiconductor supply chains in North America. As one of the world's top universities, uOttawa is committed to playing a key role in this collaboration.
On May 24, 2023, the governments of Canada, the US, and Mexico issued a joint statement announcing the launch of the North American Semiconductor Conference and North American Ministerial Committee on Economic Competitiveness (NAMCEC). They committed to aligning their efforts to strengthen regional competitiveness and productivity in industries of the future, which include semiconductors, clean energy, critical minerals, biomanufacturing, and information and communications technology. "The conference reflects a shared commitment by government, industry, and academia to work together to strengthen the resilience of the North American semiconductor supply chain." 
Semiconductor shortage is a global challenge 
Semiconductors, also called computer chips, are tiny, silicon-based electronic components that conduct electricity and can receive, process, and store information. They are used in every modern electronic device, from smartphones and medical equipment to cars and, of course, computers. There is no doubt that we cannot imagine a future without semiconductors, and they become even more important as our way of life becomes increasingly digitized. 
The current shortage of semiconductors is a global concern that affects the operations of numerous businesses, especially in the automotive and electronics sectors. This problem has created a sense of urgency that has led the governments of Canada, the United States and Mexico to reinforce "North America's status as a trusted supplier of semiconductors."  These governments intend to collaborate on three key areas: research and development, talent training through industry and academic partnerships, and investment in semiconductor technologies and related innovations. 
Semiconductor supply chains are considered among the most complex for a number of reasons, including the processing steps involved and the geographic dispersion of manufacturing facilities. Given this complexity, and the extent of the current shortage, collaboration will be essential to ensure the resilience of North America's semiconductor supply chain. 
The University of Ottawa: a key player in North America's semiconductor supply chain 
As a leading research-intensive university, uOttawa aims to play a major and active role in supporting the objectives of the North American Semiconductor Conference. By leveraging our connections with local and foreign governments, as well as with top 10 academic institutions and the industry's major players, such as Kanata North, we intend to create value and synergy in research projects, exchange programs and workforce training. Our long-standing relationships with Université de Sherbrooke and Tecnológico de Monterrey in Mexico are perfect examples of how we share knowledge, ideas, and technology to greater effect. Our research infrastructure, including state-of-the art facilities such as the Advanced Research Complex (ARC), the NanoFab, and SUNLAB, enable us to foster collaborations by building on the expertise of our researchers.  
In particular, the uOttawa Faculty of Engineering is home to leading researchers in semiconductors and related fields, such as photonics.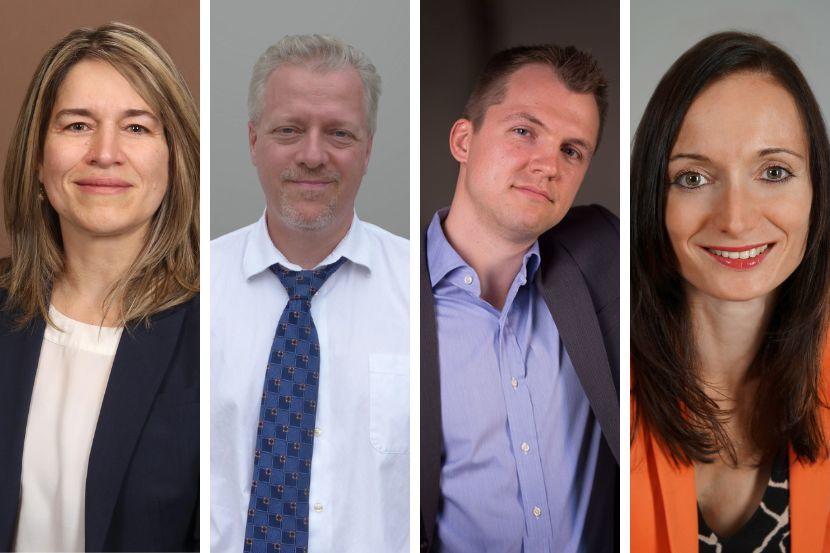 Karin Hinzer, who is the Vice-Dean, Research of the Faculty of Engineering, gained extensive experience in the design and fabrication of group III-V semiconductor devices while at the National Research Council Canada, Nortel Networks, and then-Bookham (now Lumentum). The current director of uOttawa's NanoFab Core Facility, Pierre Berini was elected to the Canadian Academy of Engineering, "for pioneering contributions to photonics." Benoit Lessard, who holds the Canada Research Chair in Advanced Polymer Materials and Organic Electronics, focuses on developing new carbon-based materials and integrating them into thin-film electronic and photonic prototypes and emerging applications. Ksenia Dolgaleva is world-renowned in the standardization of Indium phosphide (InP) fabrication processes through process design kits (PDKs). Her lab designs chips using non-linear photonic effects to drive progress towards the next generation of large-scale quantum computers.