At the pandemic's outset, uOttawa researcher Michael Organ was approached by Toronto Research Chemicals (TRC) to create a flow reactor that manufactures a key molecule used to prepare PCR test kits to diagnose COVID-19. Billions of tests have since been performed around the world thanks to his flow reactor technology.
In honour of his contributions, Professor Organ has received a 2023 Governor General's Innovation Award, which celebrates excellence in innovation across all sectors of Canadian society.
Organ, a professor in the Department of Chemistry and Biomolecular Sciences, has been at the forefront of research in flow chemistry, the movement of chemical reactions through tubes or chips, for over two decades. His invention was able to produce dozens of kilograms of the target molecule monthly rapidly, yet safely and sustainably, allowing for widespread testing of essential workers and freeing the world from lockdown.
"Research projects that address a global demand are certainly worth celebrating, and Michael Organ is truly deserving of this great honour," said Sylvain Charbonneau, vice-president, research and innovation, at the University of Ottawa. "His dedication to sustainable flow chemistry and his sharp eye for translating innovation into high value, commercialized chemical products and processes are a great asset to the University and to Canadians."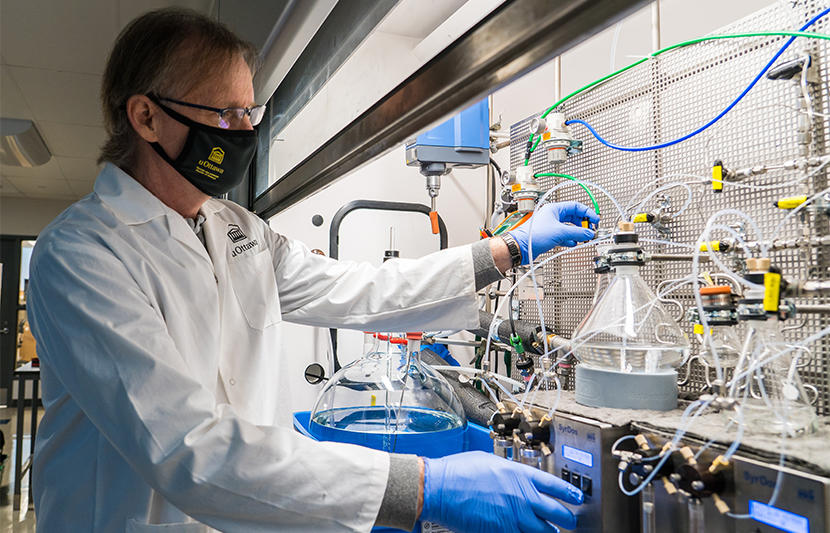 Organ's large body of research and innovation allowed for the very rapid design, construction and deployment of this unique flow reactor, which enabled TRC to play a central role in the current global health crisis.
"Given Canada's small population, it has been difficult to make a case to take on the vast financial risks of large-scale, batch-reactor technology," says Organ. "At this scale, a single misstep can cause an operating loss of up to several million dollars. Flow chemistry miniaturizes the manufacturing scale, making it safer and more affordable while still possible to make large quantities of product."
Organ adds, "Producing precious and valuable chemicals 'just-in-time' minimizes stockpiling of vast quantities of final chemical products (e.g., drugs) and synthetic intermediates that pose concerns for the environment."
Organ's success has inspired four additional Canadian companies to reach out to him. He and his team are currently looking into new flow reactor technology that targets improved worker safety and sustainability, including self-optimizing reactors guided by artificial intelligence that can be monitored and adjusted remotely via the internet.
The research from Organ's team, and that of other faculty groups in chemistry and in chemical engineering at uOttawa, has led to the formation of the Flow Chemistry Core Facility, managed by Dr. Debasis Mallik, under the aegis of the Centre for Catalysis Research and Innovation (which Organ directs). One of only a few research clusters in this area worldwide, the core facility coordinates faculty research, develops partnerships with industry and government labs (e.g., the National Research Council, the Canadian Space Agency) and drives innovations toward commercialization.
The Faculty of Law has much to celebrate as well. The Canadian Partnership for International Justice (CPIJ), a pan-Canadian group of 25 researchers from eight universities, four university-based legal clinics and three non-governmental organizations, has also received a Governor General's Innovation Award.
The researchers include Common Law professors Jennifer Bond, François Larocque and Penelope Simons as co-researchers, and Professors John Packer and João Velloso as collaborators.
The CPIJ's mission is to strengthen access to justice for victims of international crimes such as genocide, crimes against humanity and war crimes.