As uOttawa marks its 175th anniversary this year, we're taking the opportunity to celebrate some of our outstanding alumni and the amazing families they came from.
The Mes family, of whom more than 27 members have graduated from uOttawa, is one such family; their legacy is assured thanks to the new Margaret van Dinther and John Mes' Scholarship for Excellence in STEM.
The scholarship honours Margaret van Dinther and John Mes, who immigrated to Canada from Indonesia via the Netherlands in October 1956, along with the first of their eight children. Over the next 24 years, Margaret and John's dedication to education led to all 10 of their children attending uOttawa, with the youngest, Josephine, graduating in 1980.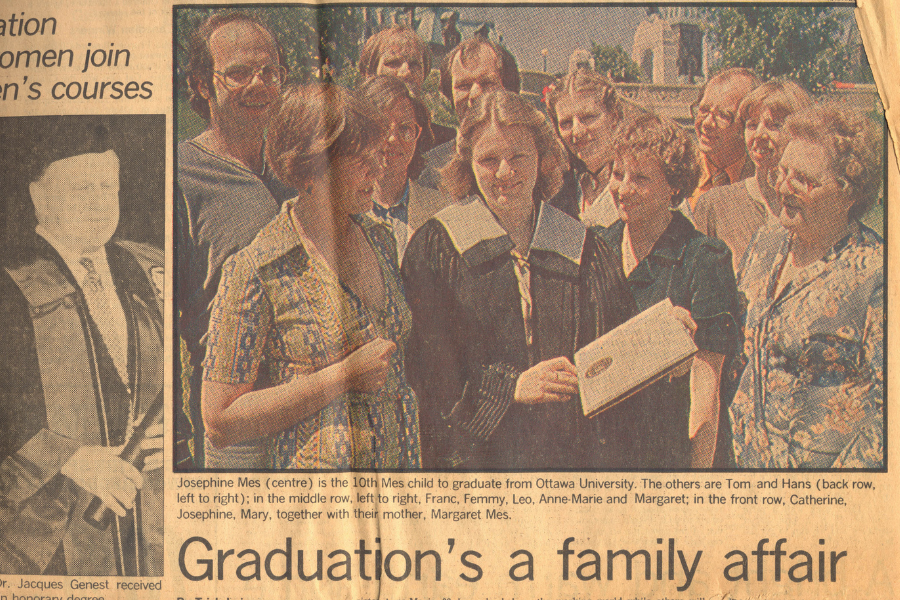 The tradition has continued into the second generation, with a current total of over 27 members of the Mes family having completed degrees at uOttawa.
Sebastien Marineau-Mes, who endowed the scholarship, is among the many members of his family to achieve success. A VP of software at Apple, Sebastien wanted to honour his grandparents' commitment to supporting all their children in earning university degrees. He also wanted to highlight the special role his grandmother played as a model of fearless courage and determination in the face of adversity. The family hopes this scholarship will support future generations and inspire them to do the same. 
Doctor Anne-Marie Mes-Masson, who won the Faculty of Science's 2022 Alumni Award of Excellence for her outstanding contributions to cancer research, reflected on her parents' devotion to scholarly pursuits. She reminisced that while her father was a natural-born educator and personally helped her overcome dyslexia, it was her mother who fed the scores of uOttawa students who would often drop by their house on King Edward Street. Not only would her mother patiently listen to what they were learning, but more importantly, she would help them manage their stress around exam time.
Margaret van Dinther and John Mes' dedication to learning is reflected both in this endowed scholarship and in their descendants, who continue to achieve excellence in academia and work to making the world a better place. 
We salute this family and their commitment to education and excellence, and we look forward to welcoming future generations of the Mes family.