Entrepreneurship is more than just a buzzword; it's a mindset. It's about identifying challenges and turning them into opportunities. Here at the Common Law Section, we strive to develop a culture conducive to innovation and entrepreneurship.
It is more important than ever for future legal practitioners to develop skills that go beyond legal expertise. Cultivating entrepreneurial skills will give students an edge to excel in their future legal practice, to establish successful businesses, and to navigate the evolving legal landscape. 
Our goal is to create a dynamic and collaborative learning environment that encourages students to think creatively, challenge traditional legal frameworks and develop solutions to important societal issues.   
We are fortunate to have the unique opportunity to be located in the nation's capital, close to Kanata North and Canada's Technology Centre.
Here are five key advantages of fostering an entrepreneurial mindset for law students:
Improved Problem-Solving:
Legal professionals are problem solvers. An entrepreneurial mindset encourages law students to approach challenges creatively. They learn to view legal issues from multiple angles, identifying innovative solutions that may not be apparent through a conventional lens. This adaptability and creative thinking are vital in a field where the law is constantly evolving, and clients rely on attorneys to navigate complex, unprecedented issues.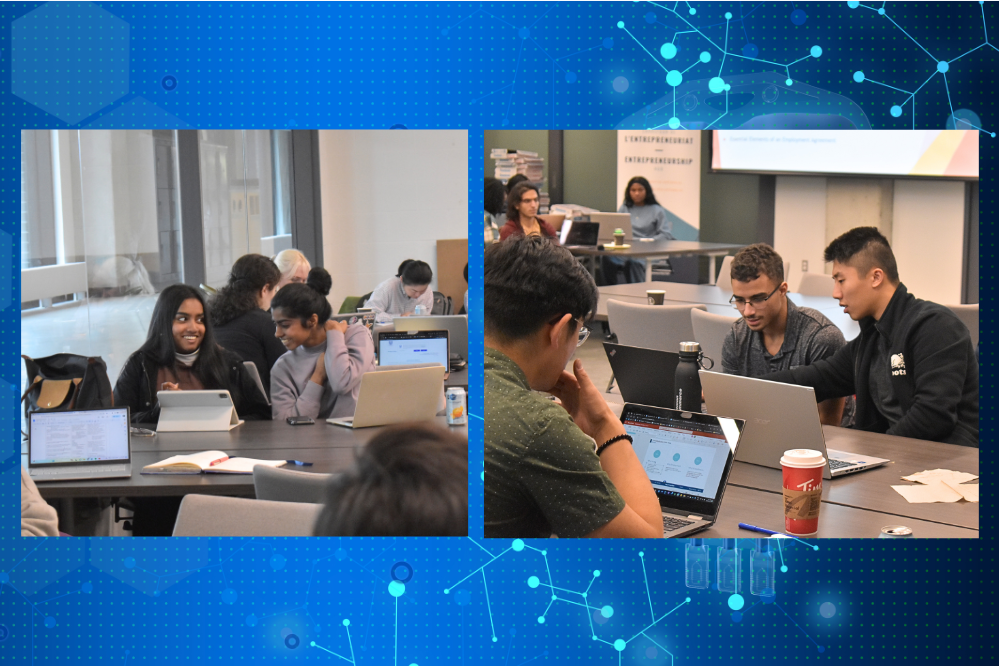 Innovation in Legal Services:
In the face of technological advancements and changing client expectations, an entrepreneurial mindset encourages law students to embrace innovation and technology. They explore ways to leverage legal-tech tools, such as AI-driven research, document automation, and data analytics, to enhance their legal services. By staying ahead of the curve, these future legal practitioners are better positioned to provide efficient and cost-effective solutions to clients.
Client-Centric Approach:
An entrepreneurial mindset emphasizes understanding the client's needs and providing value-driven services. By placing the client at the center of their practice, law students develop a strong client-focused approach, enhancing their ability to build lasting relationships with clients. This not only ensures client satisfaction but also promotes repeat business and referrals, an essential aspect of a successful legal practice.
Business Acumen:
Law schools are increasingly teaching students about the business side of practicing law. An entrepreneurial mindset equips students with the skills to manage a law firm or legal department effectively. They learn to budget, market their services, and make informed decisions to ensure the financial health and growth of their practice. This business acumen is invaluable for those who aspire to launch their firms or hold leadership positions in established legal organizations.
Adaptability in a Dynamic Field:
The legal landscape is constantly evolving, with new laws, regulations, and legal precedents emerging regularly. An entrepreneurial mindset fosters adaptability, encouraging students to stay updated on industry trends and proactively seek out opportunities for professional development. This agility in learning and adapting to change ensures that future legal practitioners are well-prepared to thrive in a dynamic legal environment.
As a law school, we strive to offer ample experiential learning opportunities such as legal clinics, moot court competitions, and pro bono work as these provide law students with practical experience in applying their entrepreneurial skills.
In October several of our students participated in the Solutions Lab, a week-long, team-based, immersive program which aimed to guide students through the development of a business idea that leverages emerging technology and innovation to bridge the current access to justice gap.  The Access to Justice Solutions Lab was co-hosted by the Entrepreneurship Hub (eHub) and the Faculty of Law.
The University of Ottawa's Entrepreneurship Hub provides the resources, programs and networks to support students at any point in their entrepreneurial or intrapreneurial journey, whether they are dreaming about launching their own business, pursuing their ideas or seeking to acquire entrepreneurial skills for the job market. 
The eHub will be hosting a variety of events, such as panels, lunch & learns and an elevator pitch competition during Global Entrepreneurship Week, which runs from November 13-17, 2023.