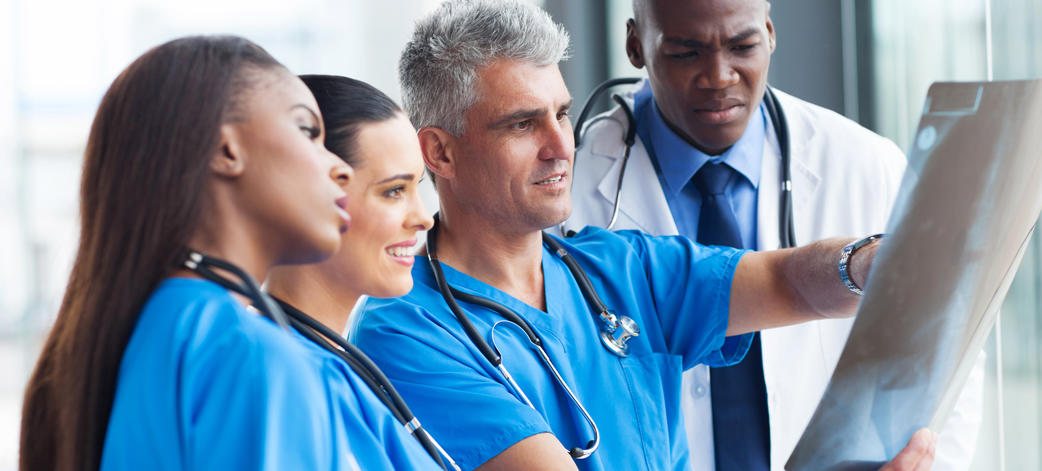 Tools, resources, and important information for Clerkship students.
Year 3
Schedules
Examinations
FAQ (Last updated: January 20, 2023)
Objectives
Clerkship Objectives

Professionalism Modules Objectives (see below)
Clinical Encounters - One45 Logs
A record of clinical encounters during clerkship.
Allows the student to meet all the general objectives of each rotation.
A minimum number for each encounter is included, as well as the scenario (actual patient or other) and the role of the student.
Sharing the logs with the preceptor can help guide the teaching and focus on areas that have not yet been touched.
The logs will help Rotation Directors adjust according to varied experiences and ensure that students receive a quality education.
Mandatory in all medical schools, to ensure a standard of medical education.
One45 Logs - Goals
One45 Logs - Data Entry
Year 4
Schedules
Objectives
Professionalism Modules Objectives (see below)
Professionalism Modules Objectives
Four mandatory self-learning modules (SLM) on various professionalism issues will be spread over the last two years of your medical education program as part of the clerkship professionalism curriculum. Topics covered will include mistreatment, breaches, boundary issues, consent, capacity and dealing with the disruptive physician.
The Undergraduate Medical Education Office will contact you to inform you of the module to be completed periodically.
Mistreatment and Disruptive Behaviour in the Learning Environment
Describe different types of mistreatment in the clinical setting, as well as approaches for addressing and reporting mistreatment. (K; Pr1, Pe4)

Complete an Incident Report and explain what happens once the report is submitted. (S; Pr1, Pe1)

List examples of disruptive physician behaviour, explain the repercussions of disruptive behaviour, and describe strategies to prevent such behaviours from occurring. (K; Pr1, Pe1)
Communication in the Healthcare Environment
Describe the importance of communication in the healthcare environment. (K; Cl1, Cm3)

List ways to ensure you are a successful member of the healthcare team. (K; Cl1, Cm1)

Manage potential communication challenges you may face as a clerkship student. (S; Cm1, Co2)

Define an approach to giving and receiving feedback effectively in clinical practice. (K; Cm3, Co2)

Explain the importance of confidentiality in the healthcare environment and when it can be breached. (K; Pr2, Pr1)
Ethical Principles – Informed Consent and End-of-Life Care Module
Describe how to obtain informed consent. (K; Pr1, Cm1)

Summarize the debate around end-of-life care and state principles around medical assistance in dying (MAID). (K; Pr1, Pr4)

State the medical student's role in end-of-life care discussions. (K; Pr1, Cm1)
Introduction to Boundaries
Identify boundary crossings and boundary violations. (K; Pr1, Pr2)

Apply the guidelines provided by various Canadian regulatory bodies with respect to boundary crossings, which include sharing information about one's personal life, using social media, interacting with members of the medical industry, receiving gifts from patients, and treating family members. (S; Pr1, Pr2)
Transition to Clerkship
Denis Vadeboncoeur
Francophone and Anglophone stream
[email protected]
Year 3
Acute Care - Anesthesia
Acute Care – Emergency Medicine
Family Medicine
Internal Medicine
Mandatory Selectives
Obstetrics and Gynecology
Pediatrics
Bonnie Landon
Francophone and Anglophone stream
Tel.: 613 737-7600 ext. 3669
[email protected]
Psychiatry
Surgery
Year 4
Mandatory Selective - Internal Medicine
Matthew Armour
Anglophone and Francophone stream
Tel.: 613 798-5555ext. 18724
[email protected]
Mandatory Selective - Surgery
Taylor Toll
Anglophone and Francophone stream
Tel.: 613 798-5555 ext. 10604
[email protected]
Transition to Residency
Christiane Raymond
Francophone and Anglophone stream
Tel.: 613 562-5800 ext. 3808
[email protected]
Clerkship Co-Directors
Acute Care – Anesthesia
Acute Care – Emergency Medicine
Family Medicine 
Internal Medicine
Mandatory Selectives
Obstetrics and Gynecology
Pediatrics
Psychiatry
Surgery
Transition to Clerkship
Transition to Residency
Professionalism
Anna Byszewski, MD
Anglophone and Francophone stream
[email protected]
Promotion Committee, Clerkship and Hospital Coordinators Meetings - 

2023-2024
Dates
From
To
Type of meeting
Notes
Friday, September 8, 2023
10:30 A.M.
11:45 A.M.
Hospital Coordinators
 
Friday, September 8, 2023
12:00 P.M.
1:30 P.M.
Clerkship
 
*Thursday, September 21, 2023
12:00 P.M.
1:30 P.M.
Promotion Committee Yr3 (MD2024)
Aug. 25 - exam
*Friday, October 27, 2023
10:30 A.M.
11:45 A.M.
Hospital Coordinators
 
*Friday, October 27, 2023
12:00 P.M.
1:30 P.M.
Clerkship
 
*Friday, November 3, 2023
12:00 P.M.
1:30 P.M.
Evaluation Review Committee 
 
Friday, December 1, 2023
10:30 A.M.
11:45 A.M.
Hospital Coordinators
 
Friday, December 1, 2023
12:00 P.M.
1:30 P.M.
Clerkship
 
Friday, December 15, 2023
12:00 P.M.
1:30 P.M.
Clerkship Holiday Activities
 
Thursday, January 11, 2024
12:00 P.M.
1:30 P.M.
Promotion Committee Yr3 (MD2025)
Nov. 17 - exam
*Friday, February 2, 2024
10:30 A.M.
11:45 A.M.
Hospital Coordinators
 
*Friday, February 2, 2024
12:00 P.M.
1:30 P.M.
Clerkship
 
*Friday, March 8, 2024
10:30 A.M.
11:45 A.M.
Hospital Coordinators
 
*Friday, March 8, 2024
12:00 P.M.
1:30 P.M.
Clerkship
 
*Thursday, March 21, 2024
Pending Meredith Marks Day
12:00 P.M.
1:30 P.M.
Promotion Committee Yr3 (MD2025)
Feb. 23 - exam
*Thursday, April 25, 2024
12:00 P.M.
1:30 P.M.
Promotion Committee Yr4 (MD2024)
 
*Friday, May 10, 2024
10:30 A.M.
11:45 A.M.
Hospital Coordinators
 
*Friday, May 10, 2024
12:00 P.M.
1:30 P.M.
Clerkship
 
*Friday, June 7, 2024
10:30 A.M.
11:45 A.M.
Hospital Coordinators
 
*Friday, June 7, 2024
12:00 P.M.
1:30 P.M.
Clerkship
 
*Thursday, June 20, 2024
12:00 P.M.
1:30 P.M.
Promotion Committee Yr3 (MD2025)
May 24 - exam
Friday, September 6, 2024
10:30 A.M.
11:45 A.M.
Hospital Coordinators
 
Friday, September 6, 2024
12:00 P.M.
1:30 P.M.
Clerkship
 
Thursday, September 19, 2024
12:00 P.M.
1:30 P.M.
Promotion Committee Yr3 (MD2025)
Aug. 23 - exam
*Transposed from previous calendar
Created: April 3, 2023
Updated: April 26, 2023