Career Fair in Education 2024
Employer registration is now open. Reserve your booth today.
Feb 14, 2024 — 10 a.m. to 2 p.m.
Each year, the Faculty of Education invites school boards and educational organizations from Ontario, other parts of Canada, and elsewhere in the world to its Career Fair in Education. This event is an exceptional opportunity for employers interested in hiring new teachers to meet candidates from the University of Ottawa, and for our graduating students and recent alumni to speak with prospective employers.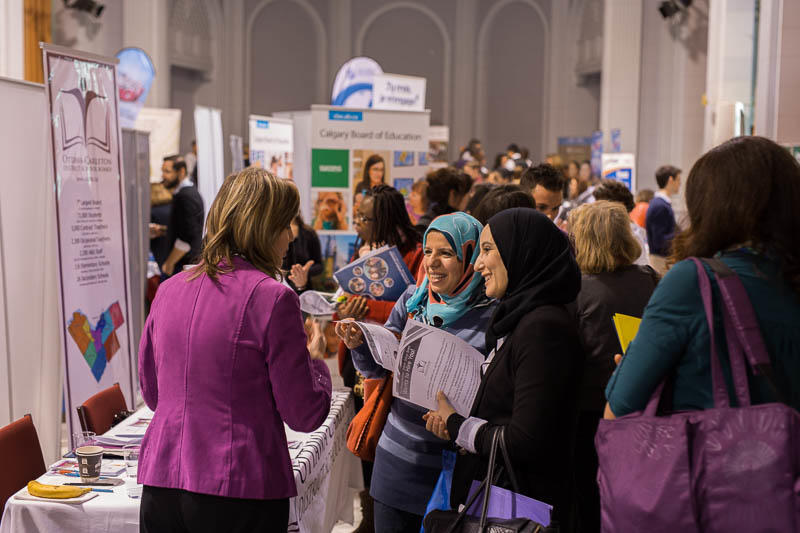 Career Fair in Education
Employers
The career fair will feature four exhibition halls. All employers can reserve virtual booth space in one or several halls during the same day.

Registration is now open for the virtual fair happening February 14, 2024.
Students
Reserve your place for the 2024 Career Fair. (MANDATORY before February 12)
Register early so you can plan your participation for the entire day. This is your opportunity to explore all the many career possibilities!
Come prepared. Learn about all the ways you can get ready for the event:
Need expert advice on preparing your resumé or cover letter?
The uOttawa Career Corner has you covered. Visit their office (UCU 216) or contact them by email [email protected], chat or video call. Book an appointment today.
Participating employers - last year's Career Fair in Education 2023
(New employers for 2024 will be added up until the registration deadline. Check this page regularly for the updated list.)
Anglophone East School District
Anzuk Education
Ashbury College
Aurelia Education Ltd
Bounce Teachers
Brant Haldimand Norfolk Catholic District School Boards
Calgary Board of Education
Calgary Catholic School District
Canadian Association of Immersion Professionals
Canadian College of Naturopathic Medicine
Cariboo Chilcotin School District
Catholic District School Board of Eastern Ontario
Central Québec School Board
Centre de services scolaire de Montréal
Centre de services scolaire de la Pointe-de-l'Île
Centre de services scolaire de la Rivière-du-Nord
Centre de services scolaire des Affluents
Centre de services scolaire des Portages-de-l'Outaouais
Centre de services scolaire Marguerite-Bourgeoys
Chilliwack School District
CINEC Education Group
CIS Ontario
Coast Mountains School District 82 (CMSD 82)
Colegio Inglés
Commission scolaire francophone des Territoires du Nord-Ouest
Conseil des écoles catholiques du Centre-Est
Conseil des écoles fransaskoises
Conseil des écoles publiques de l'Est de l'Ontario
Conseil scolaire acadien provincial
Conseil scolaire de district catholique de l'Est ontarien
Conseil scolaire francophone de la Columbie-Britannique
Conseil scolaire catholique de District des Grands Rivières
Conseil scolaire catholique Franco-Nord
Conseil scolaire catholique Providence
Conseil scolaire Viamonde
Cree School Board
Department of Education, Government of Nunavut
Destination Canada - Language and Cultural Program
District scolaire francophone Sud
Engage Education
Fédération des conseils scolaires francophones de l'Alberta
First Nations Education Council
Foresight International Education Center
Frontier School Division
Hamilton-Wentworth District School Board
iCan Teach UK
Kansas City, Kansas Public Schools
Kativik School Board
Leading Out
Limestone District School board
Make a Future - Careers in BC Education
Maple Leaf Educational Systems China
Official Languages Programs Ontario
Ottawa-Carleton District School Board
Ottawa Catholic School Board
Participate Learning
Peel District School Board
Programme CLÉ
Prospero Teaching
PVNC Catholic District School Board
Québec English School Boards
Renfrew County Catholic District School Board
Renfrew County District School Board
School District #60 Peace River North
School District No. 52
Search Associates
Teachers on Call - Tutoring
The Boundless School
The Camp Winston Foundation
TimePlan Education
Toronto District School Board
Trinity College School
uOttawa Career Corner
Upper Canada District School Board
West Vancouver Schools (SD45)
Winnipeg School Division
Yellowknife Catholic Schools
York Catholic District School Board
Yukon Government
Participating organizations