Chancellor Claudette Commanda, Dean Kristen Boon, Vice-Dean David Wiseman, faculty members, Honour Society members and student leaders, along with special guest former Supreme Court Justice, Rosalie Abella, gathered to celebrate the tremendous accomplishments and careers of the three Common Law Alumni who were selected as the 2023 Honours Society Inductees:

• The Honourable Colin McKinnon, K.C. LLB '68
• The Honourable Jodie-Lynn Waddilove LLB '03
• Jesse McCormick LLB '06
Established in 2003, the Common Law Honour Society is the Common Law Section's most prestigious alumni distinction. Graduates deemed worthy of induction into the Honour Society will have used their legal education as a foundation for the achievement of great success in their chosen professions, have made a significant contribution to the community or to the advancement of the law school, and reflect the excellence and diversity of the uOttawa common law section's alumni. This year's inductees exemplify these qualities. 
In congratulating each of these outstanding individuals, Dean Boon stated that "You are doing and have done incredible work. The University is proud to be a part of that, and to contribute this recognition to your legacy. This legacy is inspiring to me and our students. I personally admire your integrity, commitment to our nation."
Chancellor Commanda LL.B. '97 and Honour Society member since 2009, passionately praised each Inductee for their incredible work.
The Honourable Colin McKinnon, K.C. LLB '68 was appointed to the Ontario Superior Court of Justice in 1996. During his almost 23 years as a trial judge, he presided over thousands of cases, both jury and non-jury, including corporate and commercial matters, professional liability, construction, critical injury and insurance, employment, product liability, wrongful dismissal, boundary disputes, medical malpractice, interpretation of wills and estates.
Prior to his appointment to the bench, Mr. McKinnon practiced law as a trial lawyer and was certified by the Law Society of Upper Canada as a Specialist in both Civil Litigation and Criminal Law. 
President of the Common Law Students Society in 1968, he was awarded the Queen's Golden Jubilee Medal in 2002. He served as President of the County of Carleton Law Association, was chair of the County and District Law Presidents Association and was a Bencher of the Law Society of Ontario for eight years. For eight years he was an Adjunct Professor of Law at the Faculty, teaching Trial Advocacy, Ethics and Evidence.
During his acceptance speech, Mr. McKinnon reflected that "given their vast popularity, how should such honours be perceived?  In my opinion, they should not be viewed as exalting particular individuals, but rather acknowledging a particular individual's achievement as constituting one example of broader group achievement.  Honours should not be regarded as exclusive, but rather inclusive, in the sense that the honour embraces the group to which the individual recipient belongs.  Implicit in the bestowing of an honour is the knowledge that others are equally deserving."
The Honorable Jodie-Lynn Waddilove LLB '03 is an Anishnabe (Ojibway) and Lenape (Delaware) lawyer who was born and raised on the Munsee-Delaware Nation in southwestern Ontario. Her traditional name is "Giim-Mah-Myengun-Kwe" which translates to "Head Chief Wolf Woman."
She began her career as Assistant Commission Counsel for the Ipperwash Inquiry in 2004. Three years later, she joined the Ontario Ministry of the Attorney General Crown Law Office – Civil.  She later joined the Ministry of Community Safety and Correctional Services, where she served as in-house counsel and leading prosecutor for the Ontario Provincial Police.  In 2015, she was seconded to MAG's newest division, the newly created Indigenous (then Aboriginal) Justice Division, where she served as Executive Advisor and Legal Counsel to the Assistant Deputy Attorney General.
In 2018, she was appointed to the Ontario Court of Justice and presides in criminal courts in Barrie, Orillia, Midland, Collingwood, Bradford, Huntsville and Bracebridge.
Upon accepting the award, Judge  Waddilove shared that "receiving this honour today has given me a greater sense of accomplishment and purpose.  I am always thankful for those who came before me and for those who supported me.  This honour is not mine alone and I wish to recognize and thank my family, my community and Nation.  I could not have done it without them.  I hope to continue to do my part in making things possible and better for future generations."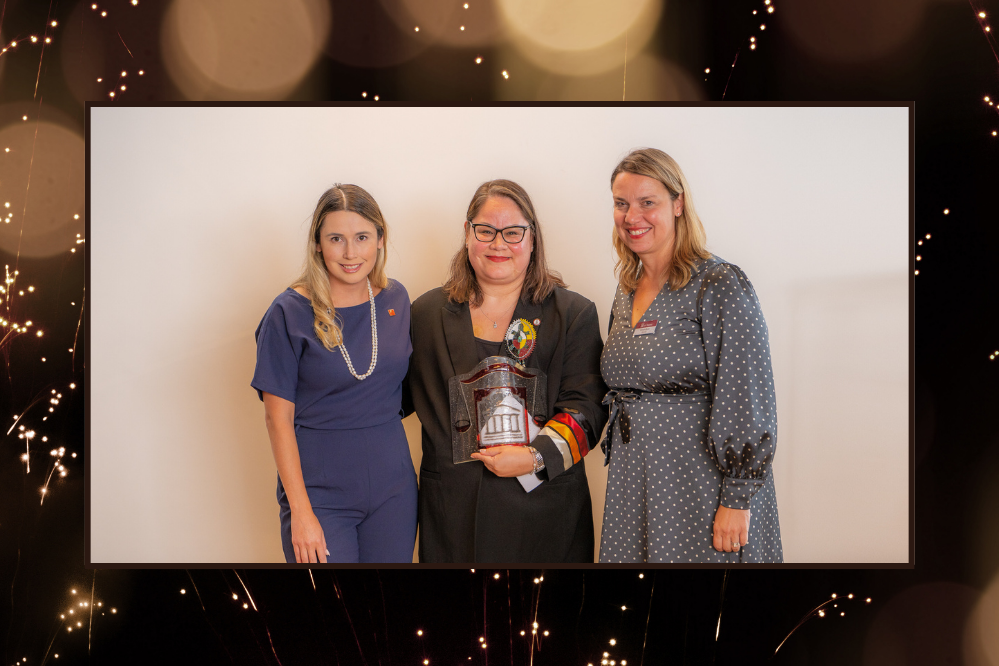 Jesse McCormick LLB '06 is the Senior Vice president, Research, Innovation and Legal Affairs for the First Nations Major Projects Coalition, a non-political and business focussed coalition of over 140 First Nations organizations working to advance the capacity needs of member First Nations in the broad areas of economic participation and environmental stewardship.
He previously served as the Director of Policy and Indigenous Relations for the Minister of Environment and Climate Change and the Director of Rights Implementation for the Minister of Justice and Attorney General of Canada.
He has also served at the Office of the United Nations High Commissioner for Human Rights as a Senior Indigenous Fellow and clerked at the Federal Court of Canada.
As a proud citizen of Canada, the Anishinabek Nation and the Oneida Nation (Wolf Clan), Jesse is committed to the achievement of reconciliation through the implementation of rights, treaties and responsibilities.
In accepting his award, Mr. McCormick stated " When I applied to the University of Ottawa Faculty of Law, I referenced my grandfather Donald Young in the application. He was from Chippewas of the Thames First Nation and I had the privilege of growing up in the house he built in Anishinaabe territory just outside Chippewas of the Thames First Nations. He spent many years at the mush hole, the Mount Elgin Residential School.  In receiving this recognition, I once again reflect on his experience, how far we have come and how far we have left to go. The University of Ottawa has given me the tools to contribute to building a better future for Indigenous Peoples in Canada and I extremely grateful for that privilege and opportunity."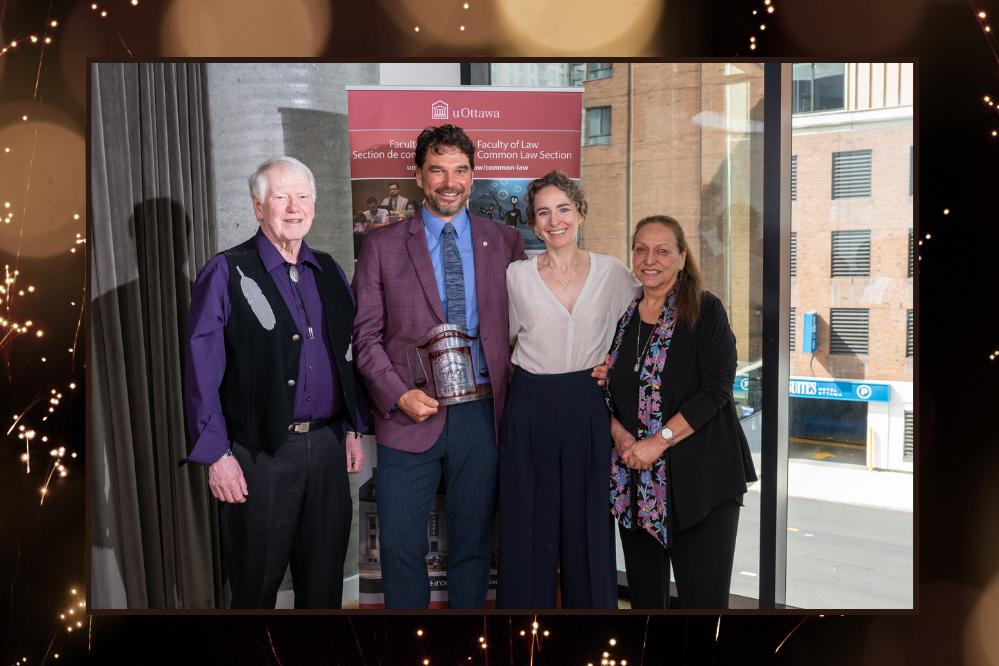 Congratulations to these three outstanding alumni!