Are you about to finish high school in Quebec and interested in going straight to university? It's possible! Read on to start the admission process!
1. Make sure you're ready to apply
You must have a Quebec Secondary School Diploma and have passed at least five Secondary V courses to be admitted into first year of university. Please note:
All prerequisite courses for your chosen program must be Secondary V courses, unless otherwise indicated.
We use your top five grades in Secondary V courses, including the prerequisites for your chosen program, to calculate your admission average.
If one of your prerequisites is a Secondary IV course, you must have successfully completed this course but we do not include this grade in your admission average.
The requirements listed are minimum requirements only and are subject to change. Meeting these minimum requirements does not guarantee admission.
Good to know
Quebec Secondary V students can apply as early as mid-October for the following fall term. While most programs accept applications for admission until June 1, some programs have different deadlines. Check the 

deadlines and available programs

.
For some programs, you may have to provide additional supporting documents or pass an audition or exam.
We use your admission average to determine your eligibility for admission scholarships.
If you have been studying in Canada for less than three years, you might have to provide us with your official results in one of the following University-approved 

language tests

. We reserve the right to request the result of a language test at any time, if necessary.
In some programs, you can apply to the 

Co-operative Education Program

 or 

French Immersion Stream

. Just indicate your choice on the application form.
At the University of Ottawa, we believe that grades don't always tell the whole story. Maybe your academic history is unusual or you've faced personal challenges. You can now improve your chances of admission by filling out a

Declaration of Personal Experience

if your academic average is below the minimum average listed for the program that interests you. A declaration can only be submitted by Canadian citizens, permanent residents or those having refugee status.
Apply online through the

Ontario Universities' Application Centre (OUAC)

.
On the form, declare all current and previous postsecondary studies, completed or not, even if they are not related to your current application. Failure to do so may result in the cancellation of your application or the withdrawal of your offer of admission at any time.
You must pay 

application fees

 for all admission applications. Visit the OUAC website to find out which fees you need to pay.
OUAC is not part of the University of Ottawa. It handles applications to Ontario universities and transfers your application to us.
3. Log into uoZone to track your status
You should receive an email acknowledging receipt of your application within one week of applying. Keep an eye on your junk mail inbox just in case. If you do not receive it within two weeks, email 

[email protected]

.
Be sure to save the acknowledgement of receipt email. It tells you how to  log into the uoZone student portal to track the progress of your application. It also includes your student number, user ID and password.
Once you have logged into uoZone, check your Admission file for the list of supporting documents you need to submit to complete your application.
For technical assistance, including with your uoAccess ID or uoZone password, please contact our 

IT Service Desk

.
4. Submit necessary documents
Submit your transcripts through uoDoc (in uoZone). Also, please note:
Transcripts submitted through uoDoc are not considered official. If you are admitted, you must submit an official copy of your final Achievement Record issued by Quebec's Ministry of Education and Higher Education (MEES).
An official transcript must be printed and stamped with an official seal and sent by the institution in question or redirected from the Ministère de l'Éducation, or a copy certified by a notary, lawyer or commissioner of oaths.
The University of Ottawa may request any other document necessary to evaluate your file. All documents become property of the University and will not be returned to applicants.
Submit your documents on time. Learn more about deadlines and available programs.
Over 5,800 students from Quebec attend the University of Ottawa.
In 2021-2022, of all the Quebec students enrolled in undergraduate and graduate courses across all faculties at uOttawa, 66% or 3,885 students received scholarships. . 
According to the 2023 Times Higher Education World University Ranking, the University of Ottawa is among the top ten Francophone universities in the world.
Through the University's co-op program, students can earn between $35,000 and $45,000 over the course of four co-op terms.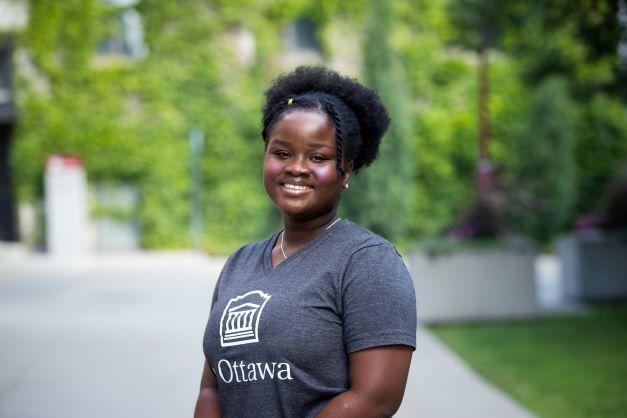 Your uOttawa representative
Hi, I'm Mélissa, the University of Ottawa representative for Quebec Secondary V students. Feel free to send me an email.
Learn more about uOttawa — or connect with other future uOttawa students:
Contact information
Office hours
September 1 to May 31:
Monday to Friday, 9 a.m. to 4:30 p.m., except Wednesdays, 9:30 a.m. to 4:30 p.m.
June 1 to August 31:
Monday to Friday, 9 a.m. to 3:30 p.m., except Wednesdays, 9:30 a.m. to 3:30 p.m.
For admission to Common Law or Medicine, contact the faculties offering these programs. For graduate studies, contact the academic unit of the faculty offering the program you are applying to.