Conscience métalinguistique et Afrique francophone : quelques enquêtes en cours

Nov 10, 2023 — 10 a.m. to 11:15 a.m.
The Canadian Centre for Studies and Research on Bilingualism and Language Planning (CCERBAL) is hosting a research forum, Conscience métalinguistique et Afrique francophone: quelques enquêtes en cours, presented by Oreste Floquet, linguistics professor at Sapienza University of Rome and associate member of the Abidjan Institute of applied linguistics.
Note: This forum will be exclusively offered in French. Please see the abstract and speaker bio below.
Abstract
THAM-2 is a metalinguistic ability test for children 9 to 14 years of age (Pinto, El Euch 2015). One of the unique aspects of this test is the way it assesses the test subjects' answers, which are prompted by two types of questions.
The first type explores epilinguistic awareness, requiring spontaneous, yes/no type answers, for example on the acceptability subtest.

The second type of question is metalinguistic : it asks the subject to justify the answers given, which involves a much more complex form of reflection.
We will demonstrate three possible uses of the THAM-2 test beyond its customary application in the field of the psycholinguistics of education. We will pay particularly close attention to the results of investigations in Niger and Côte d'Ivoire.
First, we will comment from a linguistic and sociolinguistic perspective on the THAM-2 answers, especially in terms of the acceptability subtest, e.g., "What are the grammatical intuitions of children with respect to the valency of verbs" and "Do adolescents in Niamey and Abidjan feel linguistically insecure?"

Second, we will analyze the results of the THAM-2 alongside other measurements (e.g.,"Is there a connection between the level of metalinguistic awareness and mastery of spelling?")

Third, we will examine some variations of the THAM-2. These were designed for specific purposes and may be used in both research and teaching (e.g., perception of liaison, semantics of the gerund and present participle, acceptability of autonomous and intensive pronominal verbs, and interpretation of metaphors).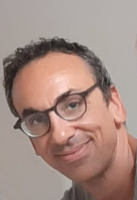 Oreste Floquet
Linguistics professor and researcher
Oreste Floquet is a professor of French linguistics at Sapienza University of Rome and an associate member of the Institut de linguistique appliquée in Abidjan. His research focuses on Francophone Africa (he has led numerous field studies in Niger and Côte d'Ivoire) and epilinguistic and metalinguistic awareness among adolescents.