As the largest clinical department at the Faculty of Medicine, we are committed to offering excellent teaching and learning opportunities in both official languages at a range of sites to our incoming residents. Our goal is to support our learners to become skilled and confident family physicians.
Annual Reports
Our Annual Reports recognize our collective accomplishments and the contributions of our outstanding faculty and learners.
For copies of our Annual Reports dating back to 2008, please contact DFM Communications at [email protected].
Department of Family Medicine's Learning Circle
In recognition of the National Day of Truth and Reconciliation, the Department of Family Medicine will be hosting a Learning Circle on the afternoon of Monday, September 25, 2023.

This event is being organized in partnership with the University of Ottawa's Mashkawazìwogamig Indigenous Resource Centre (IRC) and will be led by Chancellor Claudette Commanda and our department's Chair, Dr Clare Liddy. The event will feature an immersive cinematic experience, "This is not a ceremony", by Niitsitapi writer and director, Ahnahktsipiitaa (Colin Van Loon), followed by a facilitated group discussion led by Indigenous medical students and members from the IRC.

We will be ending the afternoon with a faculty development session on case-based approaches to support Indigenous patients and applying the CanMEDS-FM Indigenous supplement in medical practice.
To register, please access this registration link.

Should you have any questions, please contact Rebecca Celestin at [email protected].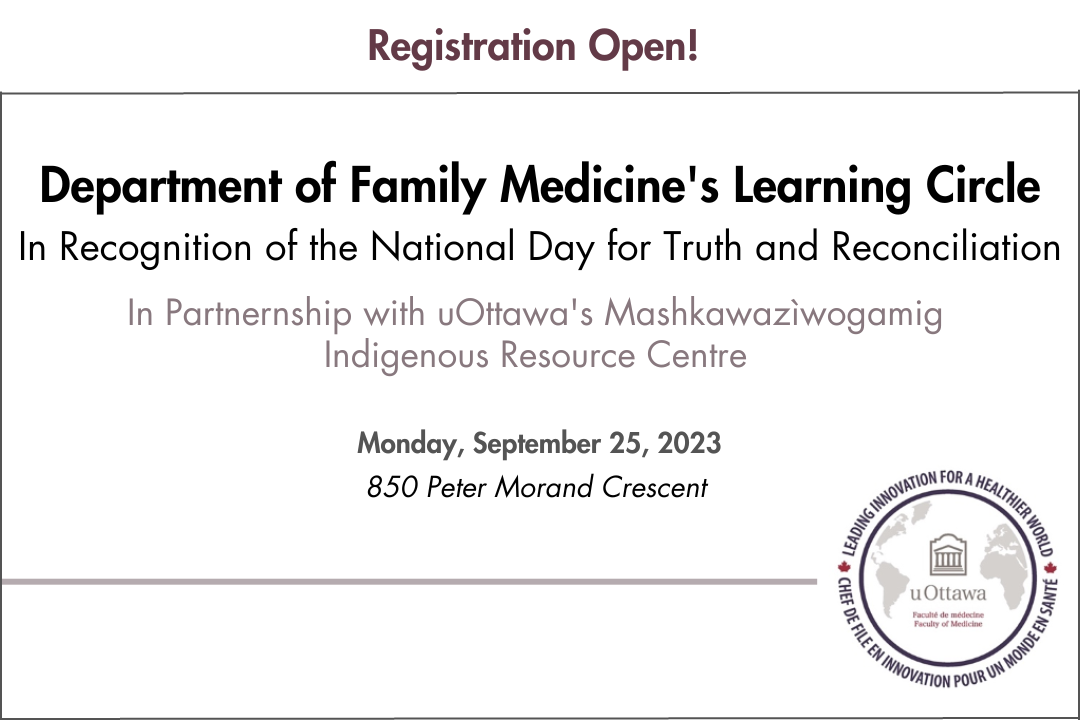 Department of Family Medicine's Annual Faculty Retreat
The Department of Family Medicine is pleased to invite Faculty members to register for the 2023 Annual Faculty Retreat at the Fairmont Château Montebello on Friday, October 27 – Sunday, October 29th, 2023.  
The early bird deadline has been extended to Friday, September 8th.  We encourage you to take advantage of the early bird pricing before registration rates are increased. Register Now!
The theme of this year's Faculty Retreat is Family Medicine is Diversity. We are excited that the keynote speaker on Friday, October 27th  is the highly-regarded Ottawa-based critical care physician, Dr. Kwadwo Kyeremanteng, and creator of the Solving Healthcare podcast. Stay tuned for more information on his presentation.
On the morning of Saturday October 28th, we welcome your participation in our Departmental Assembly, and to partake in a robust series of sessions that will provide important updates on the Outcomes of Training Project (OTP), the curriculum and accreditation, followed by a diverse series of breakout sessions to delve into key topics (EDI, Medical Education Innovations, LTC, DFM resources for faculty and the OTP). There will be dedicated time at the end of the sessions to contribute, ask questions and reflect on these important discussions that impact the future direction of our department.
In the spirit of the season, on Saturday evening, there will be a Halloween-themed costume party with music, dancing and prizes! What will you come as?
On Sunday morning, we will be providing our members with engaging faculty development sessions and group discussions and hope you will enjoy the diversity of our program and our many teachers.
There will be ample opportunity to network and catch up with our colleagues during the weekend and to enjoy the great outdoors. We hope many of you will be bringing family members, as well as children, who are always welcome! Check back here for an agenda which will be finalized in the coming weeks.
For questions about registration, please contact Rebecca Celestin: [email protected]
For all other retreat inquiries, please contact Andrea Rawley ([email protected]) or Roslyn Ahrens ([email protected]).
Access our Annual Faculty Retreat webpage for complete event information.

Postgraduate Program Streams
Strategic plan
Our strategic direction is guided by Vision 2021-2026: The Department of Family Medicine Strategic Plan. This report is the result of brainstorming sessions, focus groups, meetings and feedback from our faculty and staff. Their thoughtful, wise and sincere direction have contributed to a comprehensive plan that will guide the Department until 2026.


Contact Us
Department of Family Medicine
600 Peter Morand Cresc. Suite 201
Ottawa, ON
K1G 5Z3
Tel.: 613-562-5800 ext 2982
[email protected]
Quick Links